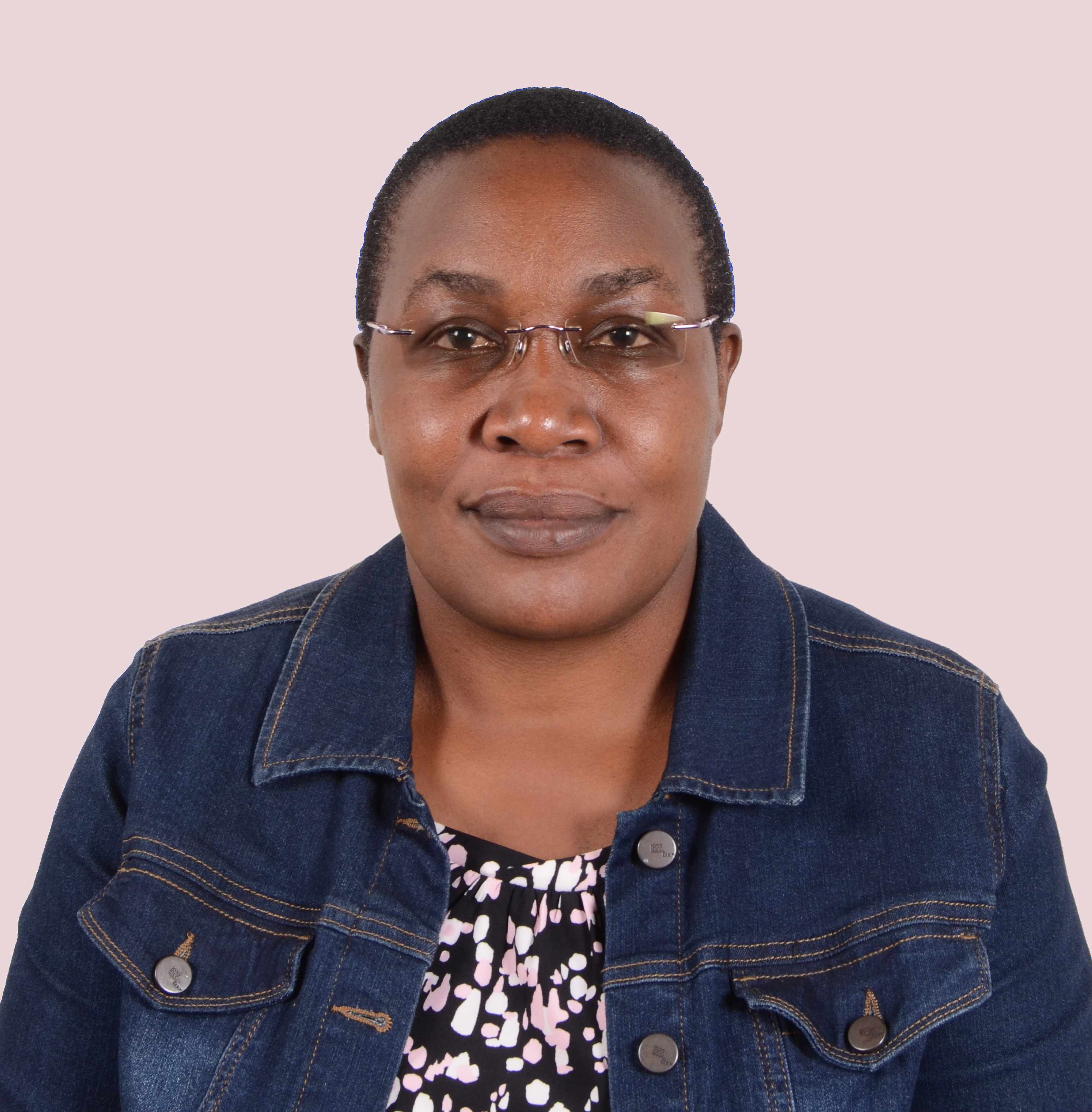 Margaret A. Rugadya
Africa Region Director
WHY I AM PASSIONATE ABOUT LANDESA'S MISSION:

Since my formative years in this career, I have been passionate about land rights as an activist, inquisitive and curious as a researcher, and keen as a policy analyst to move the needle in favor of women and excluded social economic groups. I am motivated by my strong commitment to reducing inequality (class, racial, gender, inter-regional) and contributing to equity in land and resource governance. My enduring passion and continued engagement are driven by the desire to learn, how to lead continuous change on land and property rights that is favorable to women and excluded social economic groups. At Landesa, my passion and inquisition are permitted to flourish, in an environment of equally engaged colleagues in direct contact with actors on the ground, change-makers in regional and global spaces, as well as practitioners and pacesetters.
ABOUT MARGARET:
Margaret A. Rugadya is a development economist, rights activist, grantmaker, and researcher, with over 20 years of recognized contributions to land tenure, resource governance, and gender equity. She is a strong advocate of property rights for women and natural resource-dependent communities who are excluded from their governance, specifically local communities, forest dwellers, Indigenous persons, and pastoralists.  Her most recent work focused on global norms and practices in respect of gender, land, and natural resources.
As a land rights activist, she coalesced civil society and rural populations into a countrywide coalition and movement for pro-poor land law, benefiting women and rural communities in Uganda. She has previously worked for Ford Foundation in its Nairobi office, where she focused on grantmaking projects to build voice, transform power relations, promote learning, positive policy, and equity for women, pastoralists, forest dwellers, and Indigenous communities in Eastern Africa. She is a board member of the Tenure Facility Fund, a member of the International Program Advisory Committee (the IPAC) of TROCAIRE International, and previously a technical advisor to the Government of Uganda on gender and land justice.
Education:
Ph.D., Economics (Governance & Public Policy), 2008 – 2014, Graduate School of Governance and UN-Merit, Department of Economics, School of Humanities, Maastricht University, Netherlands.
Master of Arts (Sociology), 1998 – 2000, Faculty of Social Sciences, School of Humanities, Makerere University, Kampala, Uganda.
Bachelor of Information Science (Publishing), 1993 – 1996, School of Humanities, Faculty of Library and Information Science, Makerere University, Kampala, Uganda.
Postgraduate Diploma (Urban Land Management & Informal Settlements Regularization), 2007. Lincoln Institute of Land Policy, Cambridge, MA, & Institute for Housing and Urban Development Studies (IHS), Erasmus University, Rotterdam, Netherlands.
Postgraduate Diploma (Legislative Drafting), 2003; International Law Institute, (ILI), Kampala-Uganda.
Postgraduate Diploma (Management), 2001; Uganda Management Institute, Kampala-Uganda.
Languages:
English
Swahili
Local Dialects in Kenya, Uganda
International Experience:
Burundi
Ivory Coast
Kenya
Nigeria
Rwanda
Senegal
South Africa
South Sudan
Tanzania
Uganda
Areas of Expertise:
qualitative research
quantitative research
legal and policy research
project management
land tenure policy
land rights formalization
land administration
land management
women's access and rights to land
inheritance law and practice
family and marital property law
customary law systems
land dispute resolution
expropriation
resettlement law and policy
community land tenure systems
community natural resource management
community mobilization
community-investor-government partnerships
urban land policy
agricultural development
participatory processes
training and capacity building support
policy advocacy and communications
global policy and advocacy
legal advocacy
evidence-based advocacy
Selected Publications:
2021, Contributing Author – (Forthcoming) "Understanding Tenure Security in Sub-Saharan Africa in Context": A Realist Synthesis to understand the contextual factors that explain when, where, why, how, and for whom tenure interventions aimed at improving efficiency, equity and resiliency work or don't work. Supported by USAID, led by Landesa and CIFOR.
2021, Co-Author, Book Chapter (Forthcoming): on Access to Surface Rights and Benefits for Communities; Examining the relevance of Tenure and Property Rights for Mining Investments in Karamoja in Contemporary Uganda. Published by the French Institute for Research in Africa
2021, Foreword: "Land Tenure Security & Sustainable Development", co-edited by Margaret B. Holland (University of Maryland Baltimore County), Brian E. Robinson (McGill University), and Yuta J. Masuda (The Nature Conservancy): a collection of chapters that present a nuanced, balanced, and accessible synthesis of the relationship between tenure security and sustainable development.
2020, Author, Titling Customary Tenure is not a fix for Women's Land Rights. The key argument here is that several favorable pre-existing claims and 'rights' of women that are already socially recognized by traditional norms before titling is often lost, modified, or erased as customary tenure gains formality. Under review Elsevier Journals – Land Use Policy.
2020, Author, Land tenure as a cause of tensions and driver of conflict among mining communities in Karamoja, Uganda: Highlights the missed narrative of land as a cause of tension or driver of conflicts in mining communities. It describes the forms of conflicts attributed to land tenure, based on a case study in mining communities. Suggests how to apply responses based on property rights theory in securing claims and benefits from mining actions. Elsevier Journals – Land Use Policy 94 (2020) 104495, elsevier.com/locate/landusepol.
2020, Co-Author, Titling, and Formalization of Customary Lands in Uganda: Unintended Results from a decade of Pilots: Lessons for Scaling Up. Evaluates the10 pilot projects after a decade of 'attempts and errors for titling and formalization of customary land in Uganda. The analysis details innovations holistic capture of the bundle of rights customary tenure and presents unanswered questions /challenges.
2013/2014, Co-Author, Tenure in Mystery: Status of Land under Wildlife, Forestry, and Mining Concessions in Karamoja Region, Uganda. Shows pastoral communities are vulnerable to internal and external loss of land and its resources – they do not have the information that would otherwise empower them to protect, negotiate and participate in ownership, use, and management of their land. Nomadic Peoples Journal (2013) Volume 17, Issue 1, 2013: 33–65, 2013. DOI: 3167/np.2013.170103
2010, Author, Land, and Property Rights Assessment in Amuru – Acholi Region: Determine the status of tenure and community's property rights in wildlife migration routes and compensation for the most appropriate site to locate a wildlife migration corridor between Murchison Falls National Park and Zoka Forest Reserve, Uganda. World Conversation Society (WCS).
2009, Author, Escalating Land Conflicts and Disputes in Uganda: Issues and Exacerbating Factors. The main argument is insecure tenure, overlapping and conflicting land rights, and glaring inequity in access to and ownership, increase land conflict driven by competition for influence and power demonstrated with control over land ownership, allocation, and access.
2008, Author, Northern Uganda Land Study: Analysis of Post Conflict Land Policy and Land Administration: A Survey of IDP Return and Resettlement, Issues and Lessons: Teso, Acholi, and Lango Regions. To provide input into the design of the Northern Uganda PRDP and National Land policy concerning post-conflict land policy and administration framework. Available online: World Bank Website.