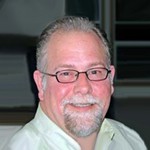 Steve Vitalich
Director of Finance
Why I am passionate about Landesa's mission:

Over its history, Landesa has proved time and again that secure land rights are the key to helping people pull themselves out of poverty… particularly when women share in those rights.  It is truly exciting to be a part of an organization that makes having land a reality each day for families throughout the world!
ABOUT STEVE:
Steve Vitalich brings well over a decade of nonprofit organization financial management experience to Landesa, along with a passion for being a part of organizations that make tangible, positive differences in people's everyday lives.  After spending the first part of his career in IT, he made the shift to the nonprofit sector in 2000.  Prior to joining Landesa in 2011, Steve held finance and administrative positions with social justice, arts, and faith-based organizations.  Steve is currently charged with leading Landesa's Finance and IT teams.
Education:
M.B.A., Pacific Lutheran University, Tacoma, WA.
B.B.A. (Summa Cum Laude), Pacific Lutheran University, Tacoma, WA.
M.Div., Luther Seminary, St. Paul, MN.
Languages: