Featuring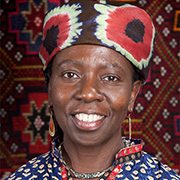 Dr. Musimbi Kanyoro
President and CEO, Global Fund for Women

Dr. Kanyoro is an activist for women and girls' health and human rights, and passionate about using philanthropy and technology to drive social change.

"I want the same for every girl and woman, no exceptions," she has said.


About Seed the Change Gala 2017
Join Landesa in 2017 at an exclusive dinner gala as we mark 50 years since Landesa's founder, Roy Prosterman, began his initial work on land reform, which planted the seeds for the founding of Landesa and has translated into secure land rights for 120 million families around the world.
In the late sixties Prosterman came upon a law review article that promoted land confiscation as an acceptable tool for land reform in Latin America. The idea seemed utterly dangerous to him. Prosterman responded in 1967 with his own law review article, Land Reform in Latin America: How to Have a Revolution without a Revolution, in which he urged democratic and market-friendly land reform which included full compensation for land acquisitions.
Prosterman's article garnered the attention of US government officials and others who saw the potential of his ideas – particularly for the escalating conflict in Vietnam. Prosterman was called to testify before Congress and was eventually recruited to carry out his ideas in Vietnam during the later part of the war.
Dress code is business attire. For more information or questions, please contact Kristen Casapulla at kristenc@landesa.org or 206-257-6133.
About Landesa

Landesa champions and works to secure land rights for millions of the world's poorest, mostly rural women and men to provide opportunity and promote social justice. We envision a world free of poverty.

We are committed to a future in which all women and men who depend on land for their livelihoods have secure, legal land rights – one of the most powerful tools for lifting oneself, one's family and one's community out of poverty.