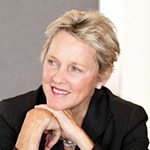 Jennifer T. Potter
Jennifer Potter & Associates
Jennifer Potter is immediate past President and founding CEO of the Initiative for Global Development (IGD), a non-profit organization that drives poverty reduction by catalyzing business growth and investment in the developing world, with a current focus on Africa. She continues to serve on IGD's Leadership Council, which has been co-chaired by General Colin Powell and Secretary Madeleine Albright, and as an advisor to the IGD Emerging Leaders Fellowship program, which connects rising African business leaders to IGD's CEO network. During her tenure with IGD, she served as a principal of the Modernizing Foreign Assistance Network (MFAN) and as a member of the Pacific Council on International Policy and represented IGD at multiple venues, including the Clinton Global Initiative and the Aspen Institute.
Earlier in her career, Jennifer served in the Peace Corps, was founding executive director of Global Partnerships, an organization that pioneered microfinance work in Central America. She also chaired the award-winning Seattle Housing Authority through redevelopment of three public housing projects into new mixed income communities, was owner of two urban planning and development companies, was Vice President of Operations for the 1990 Goodwill Games and a director of Harbor Properties, a private company. Jennifer currently serves as Chair of the Board of Trustees of Chatham University in Pittsburgh, where she has served since 2011.
Jennifer holds a BA in Political Science from Chatham College and an MA in Urban Studies from Loyola University of Chicago. She lives in Seattle, Washington.