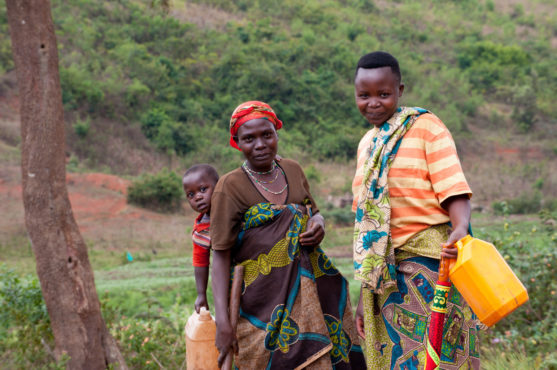 Two women and a child walk to fetch water with two yellow plastic jerry cans in Burundi. Photo credit Deborah Espinosa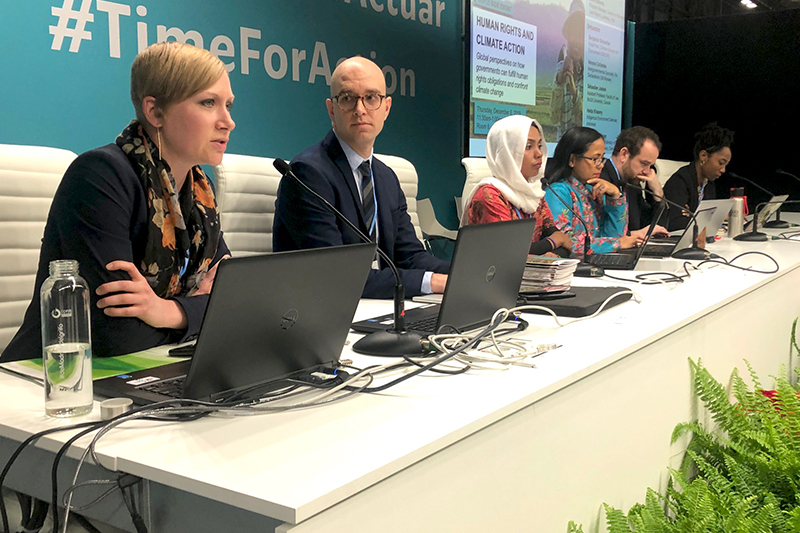 Beth Roberts moderates 'Human Rights and Climate Change' Panel at COP25
Overview
Climate change and its consequences are a threat to us all. Extremes in temperature, rainfall and drought, and rising sea levels weaken and destabilize global food systems, housing, natural resources, peace and security, and the very land beneath our feet. But the majority of the world's rural people are doubly burdened – by the severity of climate change impacts and by the lack of secure land rights to mitigate and adapt to its effects. These impacts have a triple burden when gender and other aspects of marginalization are considered, like age, ethnicity, or religion, women, youth, and other groups that lack social and political power experience greater rates of death, disease, and increased levels of poverty as a result of climate change.
When rural and indigenous communities are equipped with secure land rights that are gender-equal and socially inclusive, they are better able to make investments – in sustainable farming techniques like terracing, improved irrigation, and agroforestry – that conserve soil and water and build resilience to climate change. Beyond a role in climate adaptation, there is emerging evidence that secure land rights can help advance efforts on climate mitigation, particularly through preservation of forests and land restoration practices. Indigenous and local communities live on an estimated 65 percent of the world's land, including millions of acres of forests that are vital for carbon sequestration. These communities are essential defenders of the world's forests.
Landesa confronts climate change through its policy and program work, strengthening land rights for rural and indigenous communities and advocacy work in global fora and at convenings like the UN Framework Convention on Climate Change (UNFCCC) and UN Convention to Combat Desertification (UNCCD). Increasingly, we are hearing and responding to requests for support on climate change at national and local levels as well.
Learn More