6pm – 9pm on March 15, 2023
Town Hall Seattle located on First Hill
Admission price: Free
Join us March 15th for an evening to remember as we honor International Women's Day and raise awareness about the powerful impact of land rights at Landesa's signature event, Seed the Change! Enjoy a selection of globally inspired drinks and small bites while chatting directly with program staff and engaging in activities that shed light on the most important global development issues of our time.
We are thrilled to share this evening with best-selling author and humanitarian, Zainab Salbi. Zainab is the co-founder of Daughters for Earth, and founder/former CEO of Women for Women International. With her inspiring stories and insightful perspective, Zainab will share a profound level of understanding and passion to the importance of empowering women and securing their land rights around the world.
Mark your calendars for March 15th and get ready for a night of inspiration, education, and celebration! RSVP now to secure your spot.
---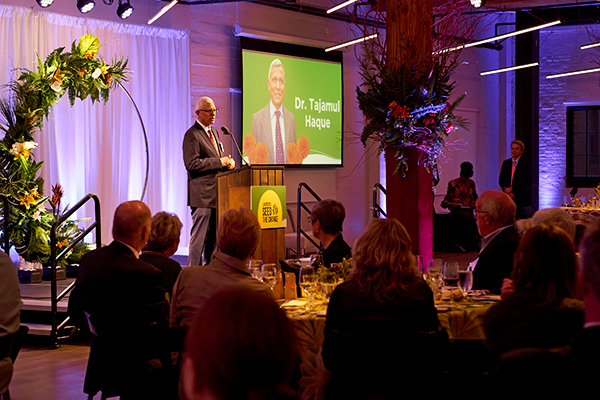 Celebrating the impact of secure land rights at Seed the Change 2022
On March 16th, a lively group of Landesa supporters gathered in Seattle at Block 41 to celebrate progress securing land rights for women and communities and learn about future opportunities for impact. Following, on March 30 friends from further afield were able to join online and continue the celebration, complete with the artistic performances from the live event in addition to a land rights trivia game. Both gatherings were co-hosted by Lauren Du Pree and Ian Lindsay. 
Audiences heard from Board members Christine Grumm, Tim Hanstad, and Titi Liu, as well as Board Chair Vikesh Mahendroo. Chris Jochnick, Landesa's president and CEO, shared his enthusiasm for several emerging projects and particularly heralded the opportunities for Landesa to support rural economic empowerment work in Indonesia. Joining them on stage was Beth Roberts, director of Landesa's Center for Women's Land Rights, who shared a rousing call to action fresh from the recent launch of the expanded Stand for Her Land Campaign in Nairobi, Kenya. 
The 2022 Seed the Change Gala raised over $300,000 for Landesa's vital work. 
A touching moment came when Tim and Vikesh awarded the 2022 Roy L. Prosterman Humanitarian Award posthumously to their dear friend and colleague Dr. Tajamul Haque. Both members of the Board shared fond memories of working with Dr. Haque and the value of his leadership. Sadly, Dr. Haque passed away last year due to COVID-19. His life's work positively impacted millions in India and elsewhere.  After the Seed the Change Gala, Vikesh delivered the award personally to the late Dr. Haque's wife in India. 
Landesa hosts the Seed the Change Gala each year in March as a celebration of the organization's work and to benefit Landesa's programs around the world. Information about Landesa's 2023 Seed the Change Gala will be available in winter 2022. 
---
Debuting at Seed the Change 2022, this video features four Landesa staff talking about our work to strengthen gender-equitable, socially inclusive land rights around the world.
2022 In-Person Gala Highlights
2021 Virtual Gala Wrap Up
2019 Gala Video: Landesa in Liberia
Land Rights and Poverty Alleviation