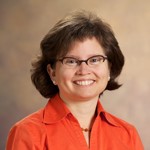 Diana Fletschner
Chief Program Officer
Why I am passionate about Landesa's mission:

Working to strengthen women's land rights around the world can be both overwhelming and empowering. Overwhelming because it makes it impossible to ignore the crippling hardships experienced by so many. Empowering because it offers a powerful and foundational avenue to overcome some of these challenges.
ABOUT DIANA:
Diana Fletschner provides strategic direction and oversight for all of Landesa's programs. Fletschner is a development economist with over 25 years of experience teaching, conducting research, designing programs and tools, monitoring and evaluating interventions, mentoring, and conducting strategic advocacy with a special focus on rural women. Fletschner joined Landesa as a Sr. Gender Expert in 2010 and has directed Landesa's global Research, Evaluation and Learning efforts for the past several years. She has co-led sector-wide efforts that resulted in the successful inclusion of land rights among Sustainable Development Goals' targets and indicators, creating both an ambitious commitment to ensure land rights for all and a global mandate to generate land rights data.  Fletschner has conducted work in 21 countries. Her work has been published in the Journal of Development Economics, World Development, the Journal of Development Studies, and the Journal of Socio-Economics. Fletschner has been recognized with awards for her technical work, her mentoring and her teaching.
Areas of Expertise:
Qualitative and quantitative research
Generation and use of data
Monitoring and evaluation
Research methods
Land tenure policy
Women's land rights
Policy advocacy and communications
Participatory processes
Rural development
Training and capacity building support
Microfinance
Education:
Ph.D. Agricultural and Applied Economics, University of Wisconsin-Madison (MacArthur-Global Studies Fellow; Taylor Hibbard Doctoral Dissertation Award).
B.A. (summa cum laude), Economics and Computer Science, Universidad Nacional de Asunción-Paraguay.
International Experience:
Argentina
China
Colombia
Ecuador
Ethiopia
Ghana
Kenya
India
Liberia
Malawi
Mali
Myanmar
Nicaragua
Paraguay
Peru
Russia
Rwanda
Tanzania
Uganda
Vietnam
USA
Languages:
Spanish (native)
English (fluent)