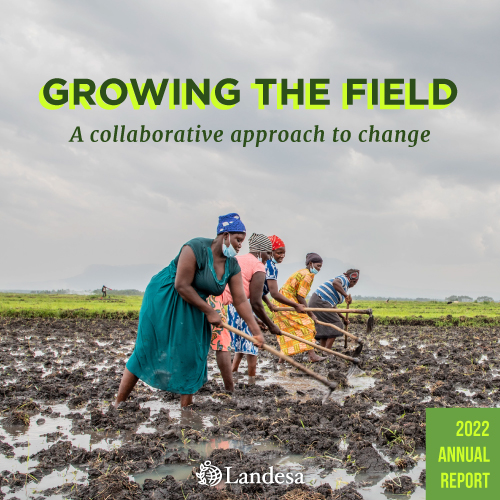 EXPLORE OUR 2022 ANNUAL REPORT
Wherever Landesa works, we are helping to ensure that individuals, families and communities have access to a critical resource for improving lives and livelihoods. Land rights are at the foundation of wealth and income, food security, social status, and stability around the world. Land is also at the root of building more resilient ecosystems and landscapes that can withstand and even fight the most harmful effects of climate change.
Learn more about the exciting ways our work is growing in our 2022 Annual Report.
FUNCTIONAL ALLOCATION OF EXPENSES
---

---
ALLOCATION OF RESOURCES BY PROGRAM AREA
---
Landesa is a 501(c)3 registered charitable organization EIN 91-1158970 [IRS Form 4168]. Your donations to Landesa are tax deductible.
Landesa is committed to operating with integrity and in an ethical manner. Review the Landesa Code of Ethics and Conduct.
Have questions about making a donation? Contact our team at getinvolved@landesa.org or call (206) 528-5880.