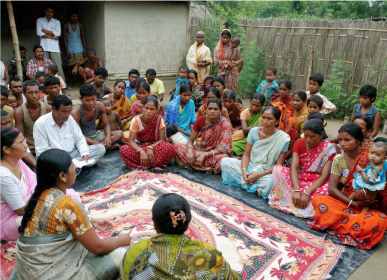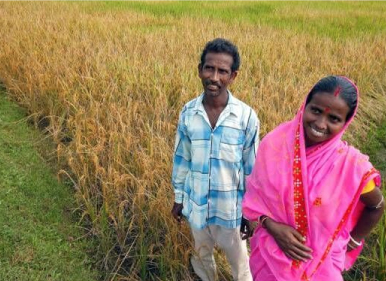 ---
Our work starts with research
Our land tenure experts venture into the fields to speak directly with members of rural communities, especially those who are women. We work with government officials at all levels to develop new laws and programs after we've invested time researching existing laws and customs and their impact.
Our work often starts with an invitation from a country struggling with the task of creating opportunity and a better future for people experiencing poverty. There are typically four steps to our engagement (click the image on the right to view actual examples of these four steps from real Landesa projects in China, India, and Rwanda):
---
1. RESEARCH

Field research to identify current conditions, laws, regulations, policies and cultural considerations;
2. DESIGN

Develop and review proposed changes to laws, programs, and regulations;
3. ADVOCATE

Educate public officials and the public about the changes necessary;
4. IMPLEMENT

Promote, plan, and assist in the adoption and implementation of these changes. Monitor and evaluate the implementation to learn from the process and recommend further changes and improvements where appropriate.
1

Our land rights programs are carefully crafted to fit the particulars of geography, political institutions, history and culture.

2

Our work harnesses the power of markets and economic incentives. Our land rights programs are not confiscatory or punitive.

3

Our land rights programs strengthen the rights of existing landholders with tenuous legal claims, while broadening secure land access for the poorest.

4

We place special emphasis on establishing and protecting land rights for women and inheritance rights for girls. This improves family welfare, nutrition, productivity, and reduces violence and infectious disease.

5

Landesa has been able to achieve remarkable results that provide a durable route out of poverty by working together with governments. A well-designed and implemented law, policy, or government program has the power to affect tens of thousands of families at a time.

6

To date, Landesa has helped 180+ million families obtain ownership or secure land rights and the opportunity for a better future.