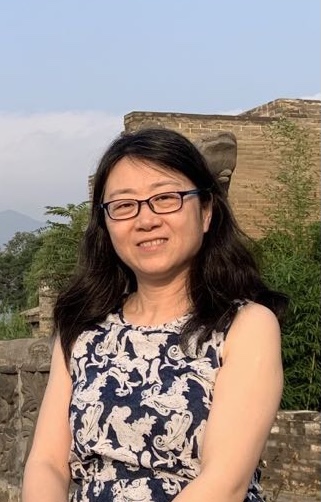 Han Zheng
China Program Director
WHY I AM PASSIONATE ABOUT LANDESA'S MISSION:

Chinese economy started to take off after the Chinese government implemented farmers' tenure reform which had rapidly increased Chinese domestic food supply and largely solved food insecurity in China. Therefore, I believe that land rights are one of the key issues that must be secured to reach the SDG of zero-hunger in the world and lift millions of rural population in developing countries out of poverty.
ABOUT HAN ZHENG:
Dr. Han started her professional career at the Ministry of Agriculture and Rural Affairs (MARA) of China and its affiliated institutions, and then joined the UN World Food Programme China Office as the Vulnerability and Analysis Officer, responsible for project and beneficiary targeting of WFP/IFAD joint poverty alleviation and food security projects based on data analysis and field investigation. In her position as the Director of the Forest Program of World Wildlife Fund China, Dr. Han led the team to secure sustained project funding, expanded project scope and measurable results, successfully engaged the Chinese stakeholders in sustainable overseas forest management and trade, and promoted certification and responsible trade of timber, palm oil and soybean along the supply chain. While working in USAID Beijing Office as a development specialist, Dr. Han coordinated a trilateral food security project in Timor Leste, and conducted extensive research on food security, agricultural trade, and development assistance.
AREAS OF EXPERTISE:
qualitative research
quantitative research
monitoring and evaluation
project management
community land tenure systems
community natural resource management
community-investor-government partnerships
rural development
agricultural development
participatory processes
livelihood promotion
policy advocacy and communications
global policy and advocacy
climate change mitigation and adaptation
gender
INTERNATIONAL EXPERIENCE:
Cameroon
Tanzania
Democratic Republic of Congo
Mozambique
Ghana
Timor Leste
Bangladesh
Indonesia
LANGUAGES:
EDUCATION:
Ph. D, Agro-Economics and Management, People's University of China
Master, Agro-Economics and Management, Chinese Academy of Agricultural Sciences
Bachelor of Science, Peking University
SELECTED PUBLICATIONS:
Han Zheng has led and contributed to publications, including:
Co-author, International Green Financing Practice in Forestry and Their Inspiration to China, Haiying Su, Zheng Han, et. Al, World Forestry Research, 2021(4).
Co-author, An Assessment of the International Competitiveness of China's Forest Products Industry, Haiying Su, Fangmiao Hou, Yixin Yang, Zheng Han, Can Liu, Forest Policy and Economics, Volume 119, October 2020
Co-author, Country Guide on Chinese Forestry Companies' Overseas Sustainable Investment and Trade: Gabon, China Forestry Publishing House
Co-author, Challenges and ways forward in implementing "A Guide on Sustainable Overseas Forest Management and Utilization by Chinese Enterprises", Haiying Su, Zheng Han, Lukas Giessen, Forest Policy and Economics 102(2019) 114-118, May 2019
Practical Guide on Sustainable Forest Management and Investment in Guyana, 2018, China Forestry Publishing House (co-author)
HAN Zheng, Reflections on Eco-Civilization from the Perspective of Globalization, Journal China National Condition and Strengths, May 2013
HAN Zheng, Promote Natural Resource Protection in Agricultural, Forestry, Husbandry and Fishery Industry through Sustainability Certification, 2012(05): 68-75, Journal of China Population, Environment and Resource
Co-author, Institutional Innovation in the Integrated Development of Mountainous Regions in China, 2011, China Agricultural Science and Technology Publishing House
HAN Zheng, Ecological Conservation Issues Emerging in Large-scale Development of Jatropha, 2009, Journal of Forestry Inventory and Survey
HAN Zheng, Business engagement approach in promoting timber trade legality, et al., 2008, Journal of Flooring World
HAN Zheng, The Impact of Organic Farming on Farmers, 2006, Journal of Research World
HAN Zheng, Mechanism to Harmonize Ecological and Economic Development in Minshan Mountainous Area, 2006, Journal of Forestry Economics
HAN Zheng, Vulnerability and Rural Poverty, October 2004, Journal of Issues of Agricultural Economy
HAN Zheng, Intervention Suggestions for Poor Counties in the West of Guangxi, May 2002, Journal of Agricultural Economics
New Approach to Poverty Alleviation in China, HAN Zheng, January 2001, Journal of China