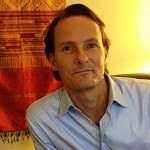 Mark West
Southeast Asia Sr. Director
30
Why I am passionate about Landesa's mission:

As I have lived and worked in South and Southeast Asia over the years, I have seen time and again that the conflicts experienced by communities are based in questions of land.  In those same places, where I have seen health and happiness it seems to come hand in hand with secure land rights.
ABOUT MARK:
Mark West is an attorney and anthropologist with more than 20 years of experience in rule of law development worldwide, with particular expertise on Southeast Asia.  He has collaborated with jurists, civil society groups, and government agencies across Central and Eastern Europe and much of Asia, and currently leads Landesa's Southeast Asia Program.  The program includes law and policy work with governments and CSOs across the ASEAN region. Dr. West lived in Cambodia for four years working with the USAID Program on Rights and Justice, whose core activity areas concerned land rights and access to justice, and where he served as the principal liaison to the Ministry of Justice for USAID.  Landesa now implements a program to improve the legal framework to secure land rights in Cambodia under Dr. West's direction. In 2013 he began work with access to justice programs in Myanmar, assisting nascent legal aid centers and training public interest lawyers who litigate land cases and defend land activists. This work led to the foundation of Landesa's program supporting land rights in Myanmar.
Areas of Expertise:
Legal and policy research
Policy advocacy and communications
Training and capacity building support
Qualitative and quantitative research
Participatory processes
Land tenure policy
Land dispute resolution
Women's access and rights to land
Project management
Education:
Ph.D., Northwestern University, School of Communication and Department of Anthropology
J.D., University of Washington, School of Law
B.A., Southern Illinois University, Department of Political Science
International Experience:
Albania, Bulgaria, Cambodia, China, India, Georgia, Kosovo, Myanmar, Nepal, Serbia, Sri Lanka
Languages: