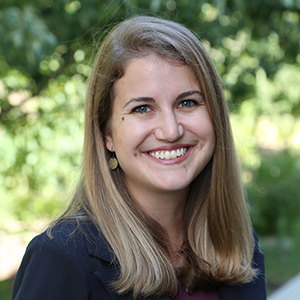 Rachel McMonagle
Program Director, Climate Change
Why I am passionate about Landesa's mission:

I love that Landesa embraces the interdisciplinary nature of climate change and seeks out win-win solutions that benefit both the environment and local communities. It is inspiring to support the human elements of land tenure work and contribute to climate mitigation and adaptation at the same time. I am proud of Landesa's emphasis on climate justice and gender equitable and socially inclusive interventions. Land rights for women and Indigenous Peoples are central to biodiversity conservation and climate mitigation and adaptation efforts, and it is energizing to work with colleagues who prioritize social equity as an inextricable, core component of all Landesa projects.
ABOUT RACHEL:
Rachel McMonagle is a climate justice and land rights advocate and practitioner with experience advancing climate resilience efforts with a social justice focus through nonprofit and U.S. government initiatives. She has honed a proficiency in climate mitigation and adaption strategies with technical expertise in sustainable agriculture and soil science. As Landesa's climate change and land tenure programmatic lead, Rachel develops capacity to implement land tenure as a climate mitigation and adaptation strategy to advance interventions that yield positive outcomes for communities and the environment alike. She leads Landesa's climate change initiatives at all three levels of governance – global and sectoral norms change through advocacy in the private sector and Rio Convention platforms, national policy reform in close partnership with Landesa's country offices, and local implementation and activities by managing organizational relationships that enhance and deepen the mission of our work.
Rachel holds a Master's degree in Environmental Management from the Yale School of the Environment and a B.A. from Oberlin College. She has fieldwork experience in Latin America, Sub-Saharan Africa, and Eastern Europe.
Education:
M.E.M., Environmental Management, Yale School of the Environment
B.A., Environmental Studies and Economics, Oberlin College
Languages:
Areas of Expertise:
project management
land management
community natural resource management
agricultural development
global advocacy
climate change mitigation and adaptation
International Experience:
Costa Rica
Italy
Ukraine
Zambia