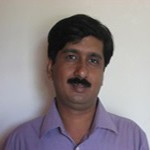 Dr. S.B. Lokesh
State Director, Karnataka, and Acting State Director, AP/Telangana
Why I am passionate about Landesa's mission:

Landesa's mission targets the very poor around the globe and uses laws and secured rights as an effective tool to overcome poverty.
ABOUT LOKESH:
Dr. S.B. Lokesh is Landesa's State Director in Karnataka, and has worked with Landesa since 2001. Lokesh has conducted research in eight Indian states on topics related to homestead land, women's land rights, rural housing, and agriculture. In recent years, Lokesh has focused primarily on the allocation and use of homestead plots.  He has extensive experience designing research methodology, conducting field research, and analyzing findings.
Areas of Expertise:
Micro-economics
Macro-economics
Agricultural trade policy
Project planning and evaluation
Facilitation of participatory experiences
Education:
Masters in Agricultural Sciences, University of Agricultural Sciences, Bangalore
Ph.D., Agricultural Economics, Kuvempu University, India
Languages:
Kannada
Hindi
Telugu
English