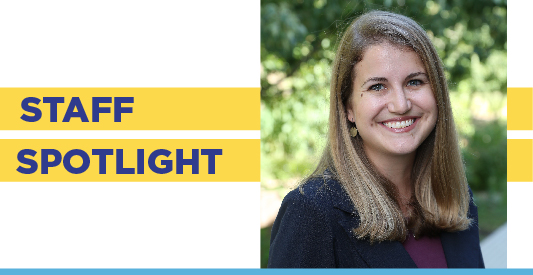 Rachel McMonagle is Landesa's Climate Change and Land Tenure Specialist. Rachel is based in the U.S. and joined Landesa in July 2020.
What inspires your work with Landesa?
I think a lot of NGOs create an unproductive artificial separation between their work on poverty reduction and environmental sustainability. I love that Landesa embraces the complexities of climate change and seeks out win-win solutions that benefit both the environment and local communities. It is inspiring to support the human elements of land tenure work and contribute to climate mitigation and adaptation at the same time.
What is your favorite part of working for Landesa?
I love thinking through thorny, interdisciplinary problems and constantly learning from brilliant colleagues. When it is safe to do so, I am really looking forward to meeting colleagues in other country offices in person and engaging with communities directly.
Of what are you most proud during your time with Landesa?
I am proud of Landesa's emphasis on climate justice and gender equitable and socially inclusive interventions. Land rights for women and Indigenous Peoples are central to biodiversity conservation and climate mitigation and adaptation efforts, and it is energizing to work with colleagues who prioritize social equity as an inextricable, core component of all Landesa projects.
Describe your vision for a better world.
All people have the dignity, security, resources, and opportunity to thrive in the face of climate change.
Learn More about our Climate Change Work