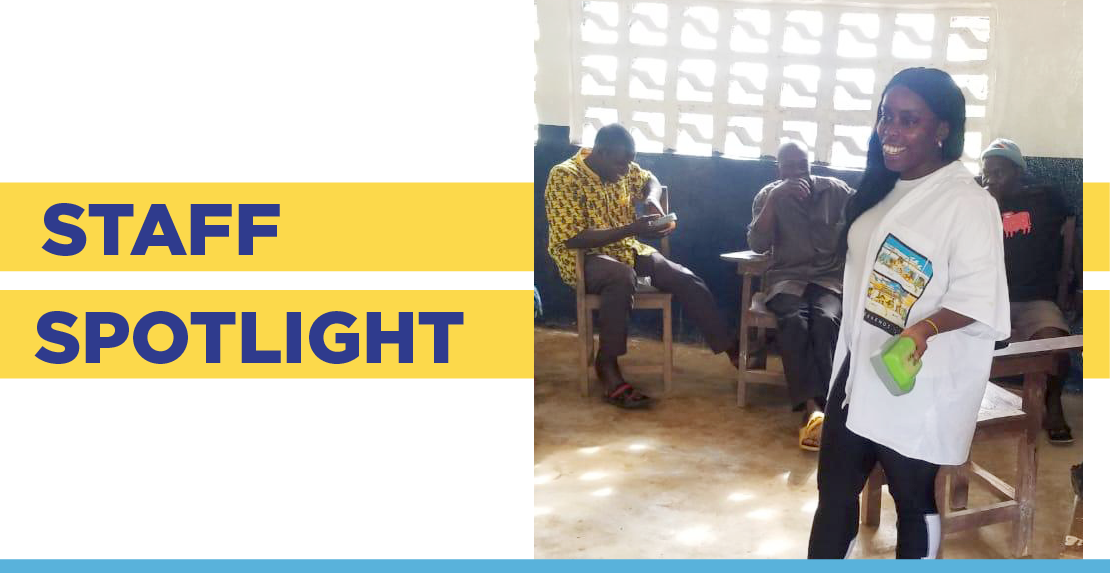 Constance Teage is a Gender and Land Tenure Specialist based in Monrovia, Liberia. Constance joined Landesa in 2018.
What inspires your work with Landesa? I previously worked as a Program Manager at the Sustainable Development Institute helping communities protect their customary lands in the absence of law and advocating for the passage of the Land Rights Act. We hosted peaceful protests, collected more than 100,000 signatures in support, hosted radio shows to raise awareness, and engaged the legislature to revise the act and pass it into law. When it passed in 2018, I wanted to move on from this heavy advocacy work to directly implementing the Land Rights Act.
What is your favorite part of working for Landesa? I most enjoy going into the field and supporting our partners to educate communities around the Land Rights Act. I love working with communities directly; it is always a joy to see and participate in the work at the grassroots level.
Of what are you most proud during your time with Landesa? Participating in revising regulations for the Land Rights Act makes me proud; to have a good law is wonderful, but if the implementation is poor then a good law can be useless. I also enjoy working to ensure that women, who have been marginalized for decades in Liberia's land sector, are included in the Land Rights for Sustainable Development Project in a meaningful way. Every opportunity I get to educate or share with communities the processes for acquiring their land documents under the new law is exciting.
Describe your vision for a better world. A better world means equality for all, freedom from exploitation for less developed nations, freedom from racism, more farms than the eye can see, women in every leadership position possible, children living and enjoying their childhood, justice prevailing in all aspects of our society, boundless love for those who are different from us, judicial systems that work, elimination of the huge gap between the 'have' and the 'have-nots,' poverty on a steady decline, Africa no longer seen as the black sheep of the continents, and endless empathy.