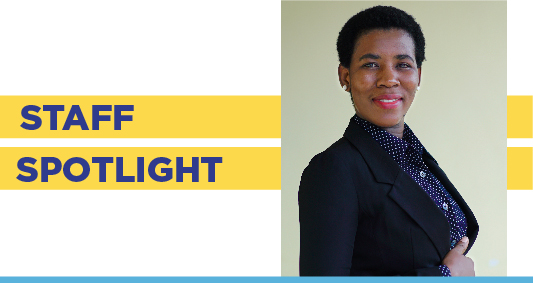 Khadija Mrisho is a Land Tenure Analyst for Landesa's Tanzania Program based in Dodoma, Tanzania. Khadija began working for Landesa in 2018.
What led you to work with Landesa?
Coming from an environmental law background, I was eager to work with communities at the intersection of secure tenure rights, reduction of environmental degradation, and climate change. For example, secure tenure rights promote conservation of forests, which then act as carbon sinks. Also, my interest in land rights' connection to increased decision-making ability for communities — particularly for women, youth, and other marginalized groups — on conservation, climate action, land governance and administration led me to pursue working with Landesa.
What inspires your work with Landesa?
The organizational, multidimensional approach to empowering those experiencing extreme poverty (particularly rural women, men, and youth) by using land as a tool. Some of the approaches that have enabled us to yield tangible and exceptional results include:
Supporting policy reforms, capacity development and institutional strengthening
Conducting research
Fighting against harmful structural, cultural, and social norms
Building partnerships with government, private sector and CSOs
What is your favorite part of working for Landesa?
I enjoy advocating for youth land rights by improving knowledge of youth and land issues to help shape youth-responsive policies and increase engagement of youth in land governance and climate-smart agriculture.
Of what are you most proud during your time with Landesa?
Taking part in setting a foundation for Landesa's work in Tanzania on youth land rights, from conducting our youth land rights assessments and policy briefs to implementing youth land rights trainings. The publications highlight youth's role in agriculture and climate action, challenges, and possible solutions for youth access to land for productive purposes. I am also proud to be part of the Landesa team that works to remove socio-cultural and political barriers so that millions of women and youth around the world can realize their land rights.
Describe your vision for a better world.
I envision the world free of harmful socio-cultural norms and structural barriers that discriminate against and inhibit women and youth from enjoying and accessing land to earn their livelihood. Most importantly, a world characterized by equitable control of and access to productive resources, and shared benefits from resources for all.