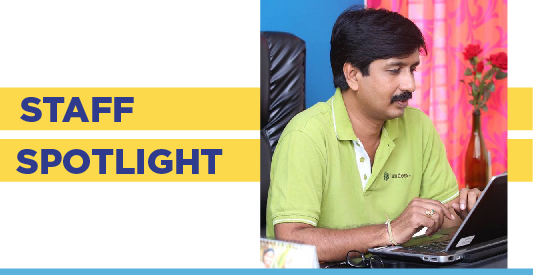 Dr. S B Lokesh is the Karnataka State Director for Landesa's India Program. Lokesh has been working with Landesa for twenty years and is based in Bangalore, India.
What led you to work with Landesa?
Upon graduating from the University of Agricultural Sciences, I had the opportunity to work as a Research Associate with Landesa. From day one I enjoyed the work and Landesa's working culture. After only a couple of months, I gained a deep understanding of Landesa's mission and vision. From that day forward I've felt that I am not only an employee of Landesa but also a huge fan of Landesa and its work. The areas where we work, the issues that we address, and the approach that we follow have inspired me a lot in my work and to stick with Landesa for two decades.
What inspires your work with Landesa?
Many things inspire my work with Landesa; among many, the greatest inspiration was working with the legendary Professor Roy Prosterman and Mr. Tim Hanstad, whom I fondly call "Roy Sir" and "Tim Sir." Working with these two legends in rural areas, and seeing their research skills, advocacy techniques, and respect towards employees has been incredible. The experience I gained by working with these two has been a great treat to me and sparked my interest in issues related to rural land rights, secure land tenure, and women's empowerment. Over the years, knowing Landesa's research in various countries, reading about the success, and seeing the road map of the organization's progress has always kept my inspiration flying high and increases my motivation day by day.
What is your favorite part of working for Landesa?
The approach we follow in our working style is one of my favorite parts of working with Landesa. At Landesa, we strongly believe in prioritizing "primary information," which is gathered by visiting villages and interacting with the rural communities we serve. We invest a great amount of time in understanding the ground realities before making decisions. Visiting rural villages, talking with the respondents, and interacting with rural women and local formal and informal officials are some of my favorite things about my work with Landesa.
What are you most proud of during your twenty years with Landesa?
I am proud of many things, but whenever I represent Landesa in various government and non-government forums, it's a great proud moment for me. Witnessing policymakers recognize and consider our recommendations makes me very proud, and this has happened in the state where I work and in other Landesa operational states. State and federal governments approaching Landesa for comments and suggestions are also to be remembered as a proud moment.
Describe your vision for a better world.
A day when I see all the rural landowners with secured rights over their land that they have been cultivating for many generations, non-discriminatory land ownership titles (women and men treated equally), women playing an active role in land management with equal recognition, a world free of rural agricultural land disputes… and the list continues.