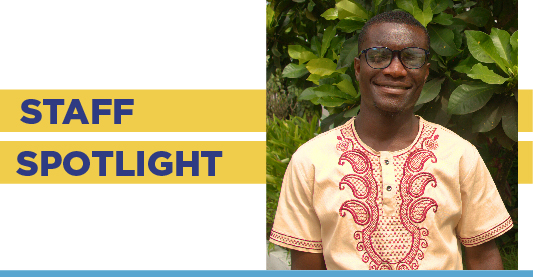 Yidamno Wesley is Landesa's Talking Books Coordinator based in Monrovia, Liberia. Yidamno began working for Landesa in 2022.
What brought you to Landesa?
My passion for program quality delivery, the advancement of Agenda 2063, the Sustainable Development Goals, and most specifically my desire and quest for a world with secure and equal social and economic rights trigged my journey to Landesa.
What or who inspires your work?
I am inspired by the support my work at Landesa creates for the most vulnerable population in Liberia. The fact that my engagement with the community provides knowledge and information necessary for customary land tenure security, and women's and youth rights to land, which in extension triggers social and economic independence.
What work at Landesa makes you particularly proud?
Landesa's overwhelming and unbending commitment to support the most vulnerable communities, woman and youth most specifically, obtain knowledge, access, and use rights to land fascinates me. And, our commitment to helping Indigenous people secure their land, which is the source of their heritage, livelihood, and economic property.
How do you spend your time when you're not working?
When I am not working, I am usually engaging urban youth in my city.
Describe your vision for a better world.
I aspire for a world with secure and equal social and economic rights to land, the primary source of development. A world where the rights of women and youth are not shuttered by societal norms and traditions.