University of Washington Law School honored Landesa founder Roy Prosterman, at a special ceremony yesterday.
Kellye Testy, dean of the UW school of law and Bill Gates, Sr. praised  Prosterman's leadership and spoke about his legacy of demonstrating how law can and should be used as a tool to battle global poverty. Since he began his work on behalf of the world's poorest, Prosterman has championed ways to move small farmers from land laborers to land owners. His work is based on a once neglected but proven notion that families who own their land are more productive than those who do not.
In attendance, at the event, were Prosterman's fellow law school professors as well as representatives of his former law students from his 40-plus year career teaching at the school.
The Legacy of Land: A Tribute to Roy Prosterman and UW Law Alumni Who are Gaining Ground in the World of Land Rights was an opportunity to celebrate a man who has dedicated his life to bring land to millions of poor farmers around the world and inspired his former students to join him.
Two of Prosterman's former students, now Landesa employees, gave speeches about how Prosterman motivated them to use their law degree for public service. Former Prosterman student, Tim Hanstad, now Landesa's CEO, shared a story about how Landesa had grown from the two of them working out of a small one-bedroom apartment to an organization with more than one hundred employees who have secured land rights to more than 100 million farmers. Former Prosterman student Deborah Espinosa, now a land tenure specialist and senior attorney at Landesa, presented her photographs, taken during her fieldwork for Landesa around the world, in the Brotman gallery in the law school. The photographs will remain on display and are available for public viewing through the summer.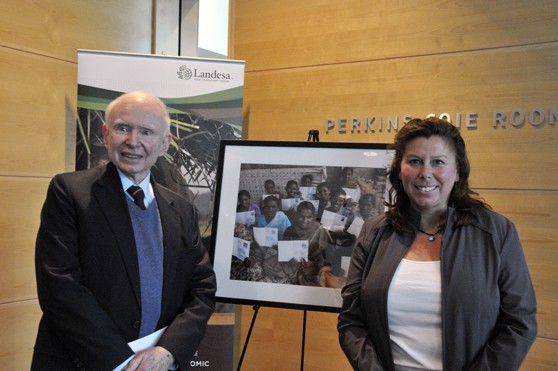 The UW Law School and Landesa have a long history of partnership. More than 40 UW alumni have gone on to work at Landesa. In addition, the school was one of the organization's earliest supporters.
Dean Testy announced at the event that King County executive, Dow Constantine, had declared May 5th Roy Prosterman Day in recognition for his contributions to UW and  the world as a professor, humanitarian and leader for the common good and presented the proclamation to Prosterman (pictured below).
Prosterman, who spoke at the event of all the work that remains to be done on behalf of the world's poorest, concluded his speech with one of his favorite quotes, by writer Gladys Taber, "My own recipe for world peace is a little bit of land for everyone."