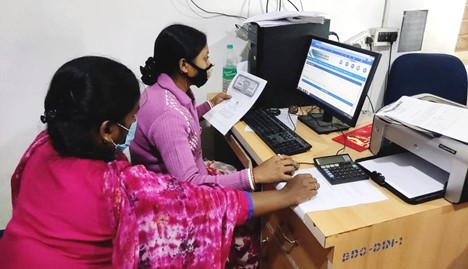 Working alongside women's community groups, Landesa is bringing gender-sensitive land resources to women in rural West Bengal
Women in India, particularly those living in rural communities, have long lacked dedicated institutions to help them access legal resources in a country where gender disparities in legal practice remain prevalent.
When looking to update their land records, women throughout the country are left with few resources in an environment dominated by patriarchal laws and practices. Often, women can fall victim to harassment and exploitation by middlemen when accessing land-related services.
Landesa is helping women in West Bengal to change this norm and build businesses along the way. Landesa's team of land rights experts are working with existing Sanghas (networks of women's self help groups) to establish special centers focused on providing land related services for women in rural areas. These Sangha Service Centers are dedicated facilities in which women can obtain information about their land rights and help in updating family land records. The information and services provided at these centers are critical in helping women — and their families — exercise and protect land rights, build economic independence, and challenge gender-discriminatory norms.
Whereas navigating state-sponsored institutions was often difficult for women, the Sangha Service Centers provide a space to access land-related services safely and at a nominal fee. Furthermore, the new centers not only provide valuable services for local communities, but also create entrepreneurial opportunities, as the centers are exclusively staffed by women Sangha members. Pinaki Halder, Landesa's National Program Director in India, notes that the Sangha Service Centers are "a unique platform to offer land recordation services through trained women in a comfortable and congenial environment."
While this project partnership with Sanghas is new — currently, Landesa is working with seven centers around West Bengal — the potential for impact is promising. Each center will serve twelve villages, providing upwards of four thousand households access to these gender-sensitive resources. Even with public health restrictions enacted in reaction to the COVID-19 pandemic, Sanghas are continuing to reach women in rural areas; between March and July 2021, Landesa-supported Sanghas received 58 applications to update land records. Other Sanghas adjusted to these circumstances by organizing virtual trainings and check-ins with women's groups working on record updates, keeping in touch with applicants who had begun their updating process.
Starting with support from the Rising Tide Foundation, Landesa hopes to scale the program to work with 250 centers serving a population of one million families and providing land record updation services to up to 300,000 of those families over the next few years. Already, this work has attracted the attention of other Indian states, creating new opportunities for significant impact and providing critical step towards protecting land rights for both current and future farmers, regardless of their gender.