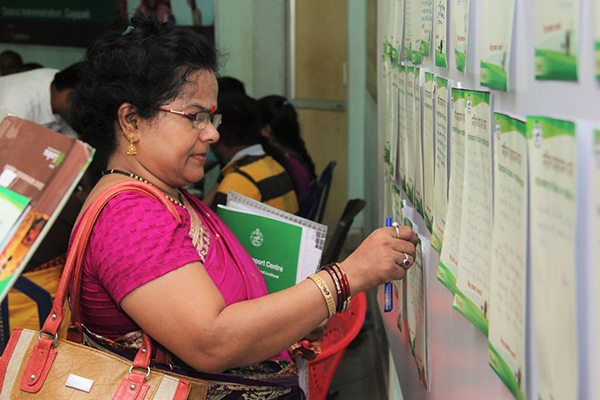 The district of Gajapati in the Indian state of Odisha has launched its own Women Support Center program, becoming the fifth district in Odisha to adopt the land allocation and resource program for single women. The WSC program, implemented in Gajapati with support from Landesa, will identify landless single women to issue them land titles and grant them access to government resources and livelihood programs.
Though the state government of Odisha has adopted a number of progressive and pro-poor laws and schemes, in practice it is difficult for those programs to reach some of the most vulnerable members of the population — namely the widowed, divorced, abandoned or otherwise single women who live alone or with extended family. These women often go undocumented in surveys at the local level and are thus left "invisible" to government benefit programs.
"The program will identify all single women in the villages, particularly the widowed, abandoned, divorced, unmarried and over 30 years of age, and those women with physical disabilities or whose husband is unable to earn due to a disability or chronic fatal disease," said Sudhanshu Mohan Samal, Chief Administrative Officer  for Gajapati District. "The Women Support Centers will process the cases of landless single women to secure their land rights and help them access government schemes and entitlements."
"I am sure that through land ownership and by availing of the benefits of various government social security and livelihood programs, these women will be better equipped to live a dignified life and can better provide for their dependents," he added.
The highlight of the August 25 launch was a signature-gathering campaign to advocate for women's land rights in Gajapati. District and local government officials pledged their support.
Since its launch in 2011, the WSC program has helped more than 7,000 single women access land rights – a key tool for economic and social empowerment.