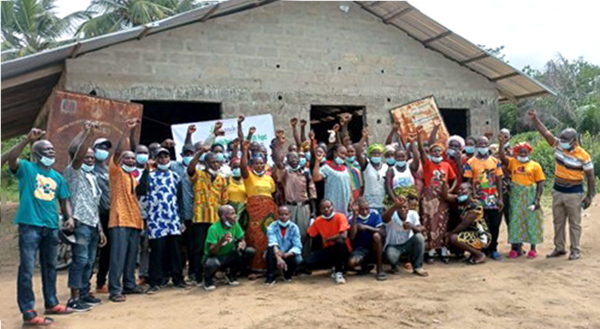 By Monica Mhoja, Outreach Director – Africa
Here in Rivercess County, there is much to be excited, inspired, and hopeful about youth and women's land rights today. Landesa is helping communities gain legal control over their land, offering assistance for law and policy reform, and strengthening government and community implementation capacity.
On April 28, Landesa organized the launch of land formalization for Togba Nyakon Clan. This marked an important step forward on a journey begun in 2018, when Liberia adopted the national Land Rights Act, granting land rights for rural communities for the first time in the history of the West African nation. The land formalization process will culminate with the community receiving a title deed for their land. Women and youth joined community leaders in expressing their excitement to see greater empowerment for women and youth, a reduction in disputes over land, and a stronger sense of peace and security.
However, we also must recognize the social barriers to the rights of women and youth will make the road to equality long and demanding. The government and traditional leaders represented during the launch are dedicated to working together to bring gender-equal land rights to their communities.
As a leading land rights NGO, Landesa's work helps advance both the United Nations' 2030 Sustainable Development Agenda and its vow to "leave no one behind," and the African Union's Agenda 2063 and its aspiration to create "A prosperous Africa based on inclusive growth and sustainable development."
---
Learn more about our work in Liberia and sub-Saharan Africa.