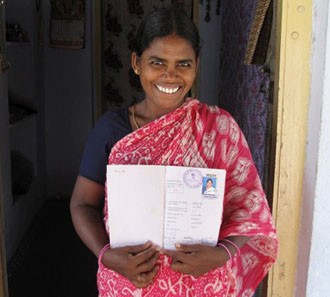 At the impossibly young age of 10, Lakshmi became a bride.
Soon after that she became a mother. And then, a young widow.
She knew her work in landowner's fields destined her and her daughter to a life of poverty.
Her way out? A program designed by Landesa and the state government of Andhra Pradesh in partnership with the World Bank, which provided women's self-help groups with the opportunity to buy heavily subsidized farmland.
Working in the landlord's field, Lakshmi managed to save two rupees (five cents) a day. "I knew it's going to benefit me and my daughter in the future…and I was right" With her savings, Lakshmi joined other women in her village and bought a plot of land. The women divided the land into modest individual plots.
Lakshmi produces two crops of vegetables a year and keeps a water buffalo on her plot. The buffalo produces 11 liters of milk in a day. Lakshmi sells 9 liters and keeps the rest for her family. This income has allowed her to fund her daughter's education all the way through college. And the income allowed Lakshmi to ensure that her daughter married late and married well.
Now, Lakshmi's dairy business is helping fund her grandchildren's education. "We used to eat one meal in a day….When I look back, I feel it's a miracle that we survived." Across Andhra Pradesh, between 2004 and 2009, more than 5,300 women gained ownership of more than 4,500 acres of land as part of Landesa's partnership with the state government. "Today," said Lakshmi, "we live with dignity."