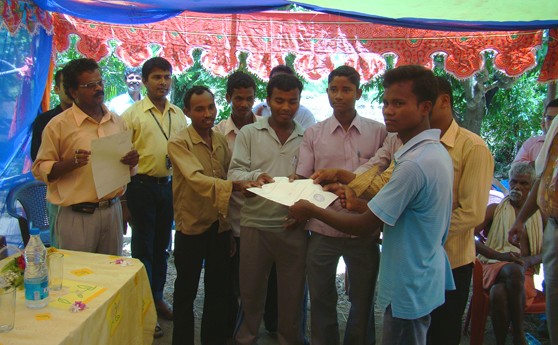 I've written here before about the need to develop and demonstrate practical programs for helping rural families gain access and secure rights to land. One powerful example of the benefits of this approach comes from the Indian state of Odisha (pronounced "o – DIS – ha"), which regularly ranks among the poorest states in the country.
As is so often the case in poorer and more isolated places, government capacity in rural Odisha is not nearly sufficient to do all that the government would like to do and should be doing. Officers are burdened with long lists of tasks, but don't have adequate staff or other resources. Some things naturally won't get done. One task that almost always fails to make the list is that of ensuring that the poorest families have documents establishing their rights to their land.
Enter the Community Resource Person (CRP). CRPs are village youths like Bali Sabar enlisted to assist rural government officers to inventory village lands, sort through land claims made by poor families, measure land parcels, and prepare documents that will be used for granting land title. This concept, which Landesa and its partners pioneered in Odisha and which is now being implemented widely, is helping families obtain title to land where they have lived and farmed for years, in many cases for several generations.
Once the CRP receives training on the processes used to substantiate land claims—training typically provided over just three days—he or she can quickly begin bridging the gap between the families and officialdom, supplementing the capacity that the state land administrator needs to grant land rights to families. The program costs very little to implement and does not require a permanent expansion of government staff.
Why does the model work? It works because the CRP comes from the village, and therefore appreciates why land is so important in the lives of villagers. It works because villagers trust the CRP as one of their own. It works because the CRP understands the attitudes and concerns of villagers and knows how to get things done in the village. And it works because the CRP focuses on a limited and targeted set of tasks. In the words of Sanjoy Patnaik, state director of RDI, Landesa's partner in Odisha, "The CRPs have made the land allocation and settlement process more locally driven, participatory, transparent and faster than before."
Government officers in rural Odisha have welcomed this assistance, though most admit they were skeptical at first that village youth could really help with land matters. In fact, in addition to granting much needed land rights security to rural families, this approach has provided the added benefit of bolstering the confidence of communities to tackle problems that previously seemed complicated and technical. The demystification of land titling processes is itself an important result of using village capacity to bring land rights to village families.
Systems that build and make practical use of village capacity make sense for many reasons. That village capacity can be used effectively to recognize land rights of the poor is a welcome revelation.