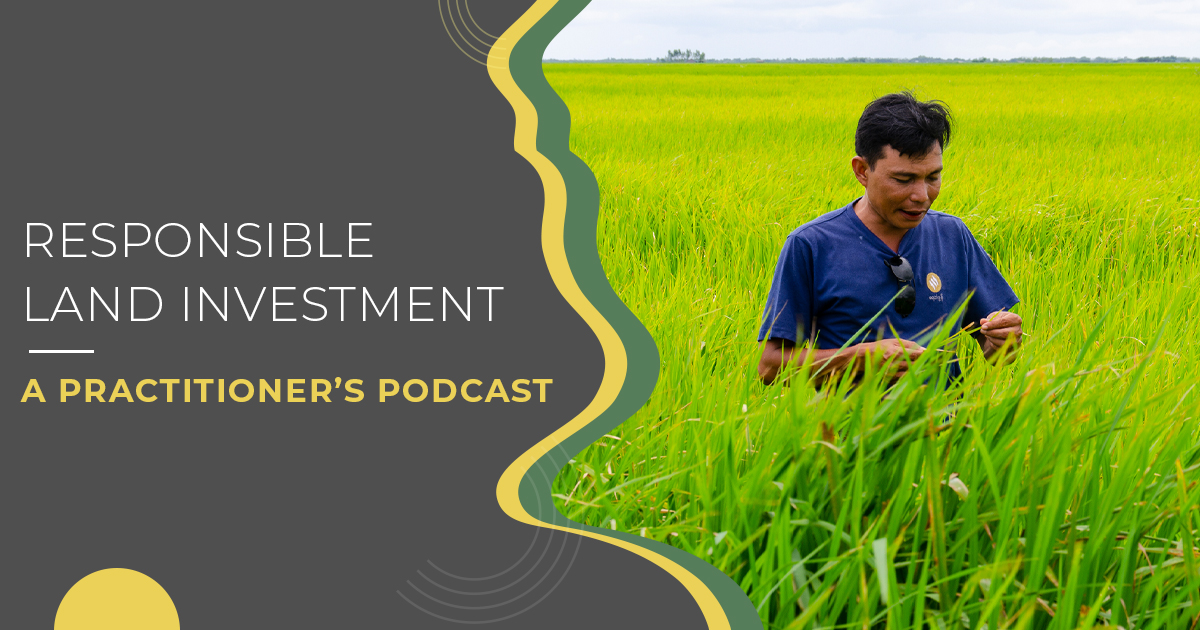 Real stories from practitioners navigating the complex world of land‑based investments.
Are you interested in learning about land dispute mediation or how obtaining FPIC works in practice? What about supporting women's empowerment and inclusion in commercial supply chains? In this 4-part podcast series, our host Megan Olson, a land tenure specialist at Landesa, sits down with experts from around the world who share real-life wins, challenges, and lessons from their work in making land-based investments more responsible.
Episodes released every Tuesday.
In this episode, Megan is joined by Aris Bahariyono and Gusrowi from the Earthworm Foundation to discuss their work supporting a remediation process between local communities and a palm oil company in Central and West Kalimantan, Indonesia. Aris and Gusrowi explain what FPIC (free, prior, and informed consent) remediation looks like, goals and outcomes of the process, and insights for practitioners working on FPIC or company-community dispute resolution.
Earthworm Foundation (EF) is a global non-profit organization that works with companies and other partners to create sustainable value chains that protect biodiversity and respect community and worker rights. Gusrowi is a Learning & Development Manager at EF based in Jakarta with experience in training, facilitation, conflict resolution, and peace building. Aris is a Thematic Social Specialist at EF based in Semarang who has 25 years of experience working in conflict resolution, institutional capacity building, and community development.
Additional Resources:
Tawonga Chihana shares a story of her work investigating grievances related to a company's cotton operation in southern Malawi and how she worked with the affected parties to attempt to mediate the dispute. In this episode, you'll hear about Malawi's customary land tenure system, some negative impacts surrounding outgrower schemes, and key factors that determine success in mediation.
Tawonga is a land and property rights lawyer who specializes in customary land tenure, women's land rights, responsible land investments, and community land conflict resolution.
Additional Resources:
Megan is joined by Rosa Zamora, who shares a story from her work at Proforest supporting farmers in the Tabasco and Chiapas states in southern Mexico to develop their capacities in the sustainability practices needed for RSPO smallholder certification. In this episode, you'll hear about the Roundtable on Sustainable Palm Oil (RSPO) certification program, engaging the private sector when there are complex land rights issues, and the communal land tenure (ejido) system in Mexico.
Proforest is a global organization that supports companies, governments, civil society and other organizations to work towards the responsible production and sourcing of agricultural and forest commodities. For the last 3 years, Rosa worked as a Project Manager with Proforest.
Additional Resources:
Megan talks with fellow Landesans Shipra Deo and Pinaki Halder about their work to break social norms and support women's inclusion in the potato supply chain of an international food and beverage company. After an assessment identified that women's participation in the supply chain was restricted due to their limited access to land, Shipra, Pinaki, and their team piloted a group leasing and farming model to support women's direct participation in commercial farming and to increase the percentage of potatoes the company sourced from women-managed farms.
Landesa is a nonprofit organization that works with governments, companies, and local organizations to develop pro-poor and gender-sensitive laws, policies, and programs that strengthen land rights for people experiencing extreme poverty. Shipra is Landesa's Director of Women's Land Rights in India who has over 20 years of experience managing programs related to women's land rights and empowerment. Pinaki is Landesa's Director of National Programs in India who brings over 20 years of experience in rural and community development.
Additional Resources: