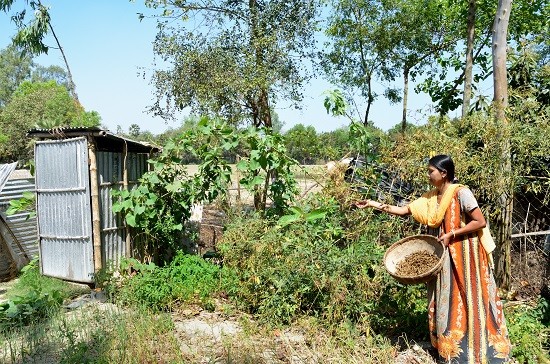 This blog originally appeared on Devex.
By Beth Roberts
Last month, I attended the World Bank Land and Poverty Conference for the first time. I counted it an immense privilege to enjoy the flood of information, conversations with a host of talented and passionate practitioners, the sense of global community, and the energy of a common focus.
But over the course of the week, it dawned on me that conversations about women's land rights, and about gender more broadly, were conspicuously missing. Conspicuous because there is increasing evidence that women themselves — as well as whole families and communities — benefit enormously when we work to equalize women's opportunities and status by strengthening their rights to land. It was also conspicuous because gender issues weren't missing from my experience at the Conference altogether; I attended several sessions specifically focused on women's land rights and gender issues.
However, gender was missing from the plenary sessions. There was fascinating discussion of the future of the land sector, featuring brilliant and accomplished speakers from the field, some of whom were women. But the disparities in access to new technologies between men and women, the need to specifically target programs to women so that they benefit equally and alongside men in this exciting future, and the ways keynote speakers have encountered gender issues in their work — all of this went unmentioned.
Gender was missing from most sessions I attended that didn't have "women" or "gender" in the title. There was hardly a mention of the differing ways men and women use, access and own land, how women are affected by government reform programs or investments — and what should be done to fully include women and ensure their equal rights — and the differing ways they might lead in and be benefitted by the use of data and technology in the land sector.
Gender was missing from the main building. The first morning, I wound my way through the labyrinthine tunnel from the main conference building to the "J building," where all the sessions I attended that focused on women's land rights were housed. The building is across the street. It is difficult for newcomers to the conference to find, and it is literally buried, in the sense that it is accessed by tunnel. Whatever the intentions or constraints in deciding which sessions should be held where, this physical arrangement sends a message about the priorities of the conference.
Why does this matter? This is the World Bank Land and Poverty Conference. The World Bank has articulated its commitment to gender equality, to women, and to ending poverty. We cannot end poverty without paying attention to gender. Women make up half the world's population. It has become increasingly well-established that women suffer disproportionately from poverty, and there is ample evidence of the necessity and the benefits of empowering women by promoting and securing their rights to land. It is widely accepted that women's equality is crucial both for sustainable development and for fulfilling human rights obligations.
The World Bank has committed substantial effort to strategic and programmatic gender integration. But because addressing gender is a complex challenge, we must be careful at every step, and in every venue, not to leave gender neglected in practice while exalted in rhetoric. We must not leave gender in the hands of a few tireless experts who repeatedly advocate for everyone to "own" gender.
Paying attention to gender includes working strategically to help diffuse understanding of its importance; this is needed in the land sector, where technical expertise is critical, but also critically interdependent with the need to understand social context. Addressing gender issues requires a conviction that attention to gender is necessary, and a commitment to advocating for a gendered approach despite the challenges of getting it right. It requires employing time and financial resources, predicated on the knowledge that shrugging off the need for those resources means shrugging off women themselves, the largest and most consistently marginalized population on the planet.
Our commitment must consistently extend beyond strategy and rhetoric. If the World Bank is not known for leading by example in this, how can we expect government partners, corporations, and civil society to thoughtfully prioritize gender equality? When we marginalize gender — when people have to go underground and across the street to find it — we risk keeping women all over the world oppressed, marginalized, and impoverished.
Next year, I hope to go back. I hope to experience more of the thrill of learning from colleagues from all over the world, of gaining and sharpening knowledge about this exciting field that I have the privilege of being a part of. And I hope that each panelist, including plenary speakers, will have been encouraged to consider and incorporate gender in their presentations. I hope that the bank and the conference organizers will demonstrate their commitment to gender equality. A simple start to this demonstration? Provide physical prominence to gender and women's land rights sessions in the conference buildings, and champion the inclusion of gender in all sessions.
Beth Roberts is an attorney and land tenure specialist with Landesa.