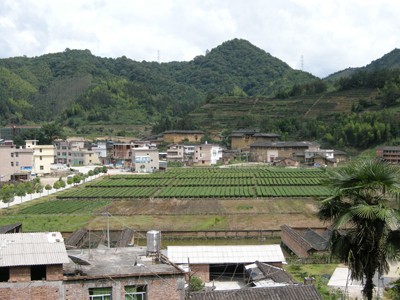 On a recent visit to Tianzhong, China, I was reminded of how many of China's rural development, planning and justice challenges have roots in the country's centrally-planned and nationally-controlled policies.
Officials in Tianzhong, like local officials across China, have recently carried out a series of land expropriations.  And farmers had been compensated with about $1,500 (USD) per mu (1/15 of a hectare), only a fraction of the true value of the land. Tianzhong's farmers, like many farmers across China were understandably frustrated.
Across China this is a problem because national tax laws provide local officials with exclusive rights to land conversion fees. And the vaguely-worded public interest clause in China's property laws gives local governments broad expropriation privileges, while nationally-mandated compensation standards require officials to compensate farmers by providing only a fraction of land market value.
In addition, banks managed by ex-officials and encouraged to lend by centrally-set low interest rates and directives, are eager to provide loans for government-affiliated projects.  Thus local leaders will sell land to developers, leverage sales for greater equity, then invest in infrastructure projects with the aim of attracting more investment and driving up real estate prices. In China, converting land remains the most direct and efficient means for local governments to fill their coffers.
A related and recently promoted policy further undermines farmers by allowing local leaders to expropriate arable land for development so long as it is offset by a comparable amount of arable land. This has resulted in even more farmers being moved from their homes to new apartment blocks—forcing them to commute (sometimes long distances) to their farms.
On a macro scale, the trend appears to be towards separating farmers from their primary source of identity and social security – their land – and forcing migration to cities where, as a result of China's household registration system (hukou), they are still registered as rural dwellers and lack the same access to urban social services as official residents and are treated as second-class citizens.
There are a number of possible approaches for addressing the problem of land tenure security in China.  These include advocating for national reform of the public interest clause, compensation standards, the cadre management system (which encourages officials to focus on short-term gains) and China's tax laws.  Legal aid, legal rights education, and land rights titling all can empower those who would resist expropriation or compulsory leasing.
While advocating for these large-scale top-down reforms is worthwhile, major change is unlikely in the short-term.
China's economy is presently dependent on revenue from land takings and cheap migrant labor.
Not only would the reforms necessary to end a practice like land expropriation require a restructuring of China's economy, they would also require political reforms the Chinese government is not ready to undertake.  Beijing knows its present economic structure is unsustainable, but it is still hoping to restructure gradually without causing economic and social instability.
Generally, China's government prefers to start small with experiments to see what works before taking reforms to a national scale.  In the past it has crafted vaguely-worded legislation on a variety of sensitive topics to allow local-level experimentation.
The household responsibility system that broke up the collectives and gave families lease rights to land began as just such an experiment in the late 70s in a village in Anhui.  Export manufacturing began in a similar experiment in the early 80s in Shenzhen, then a sleepy fishing village.  Currently, experiments in hukou reform are being carried out in villages outside of Chengdu and Chongqing.
In part because of this, struggles over property rights are presently taking place in towns and villages across the country.  An economic approach to improving land tenure security should also be considered. Such an approach would help local governments craft development plans that are financially viable as well as sustainable, equitable and reduce land taking.  Feasible plans must conform to the present demands of the cadre management system by generating revenue for the county government in the short and long term.  The process for creating such plans begins on the ground with examining a village's specific challenges and strengths.  What are the local government's revenue needs?  Are the local conditions conducive to other, less destabilizing development models?  Such development alternatives can plug the revenue gap that typically necessitates land takings.
In Tianzhong, for example, sustainable, equitable development that addressed site-specific needs and worked from the village's strengths would include cooperative farming, which could provide a means to raise and stabilize incomes on a large scale primarily by creating a single brand and eliminating competition and price-fixing middlemen.  A plan can be developed that ensures revenue is used to provide a basis for the kind of equitable and sustainable growth that provides true tenure security.
Large-scale land rights reform will not come quickly.  But the process can be expedited by providing a plan for how to increase land rights security on a small, site-specific basis, thus providing development alternatives that can lay the foundation for the kind of legal and political reform that cements those rights.  In so doing, we can more clearly articulate and powerfully advocate for our vision for the future, one wherein smallholder farmers in China have the ability to define success on their own as well as the means to achieve it.