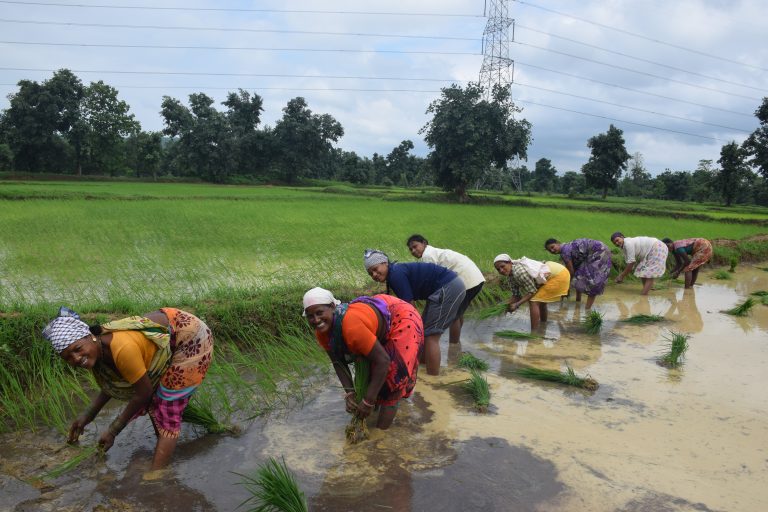 This blog was originally published on Land Portal.
By Rachel McMonagle, Climate Change and Land Tenure Specialist
Last week the world observed the International Day of Indigenous Peoples on Sunday, Aug. 9, amid a global pandemic that UN Secretary-General António Guterres noted has had a "devastating impact" on the world's Indigenous communities.
COVID-19 poses a specific threat to the health and welfare of Indigenous communities, which often have limited access to health services and public health information, and often suffer disproportionate rates of poverty. And as governments eye economic stimulus by opening once protected Indigenous lands for extractive activities and economic development, Indigenous peoples could lose land and resource rights that are foundational to their livelihoods and culture. These ongoing and looming losses spell grave consequences for the survival of those communities and for global efforts at biodiversity conservation and climate change resilience.
Land rights and management are increasingly recognized as paramount for biodiversity conservation, as well as climate action and sustainable development more broadly. The most recent report from the Intergovernmental Science-Policy Platform and Ecosystem Services, the Intergovernmental Panel on Climate Change's 2019 report on land, a recent BioScience study (endorsed by 11,000 scientists globally), and other mounting evidence are all part of a growing consensus that the land tenure rights of local communities and Indigenous groups are central to biodiversity preservation, sustainable development, and climate change mitigation and adaptation.
Rural land users manage approximately 65 percent of the world's land and coastal ecosystems. Legal recognition of land rights is a necessary basis for planning and implementing biodiversity conservation and restoration. To be effective, the process must include rural land users, with attention to intersecting vulnerabilities faced by women, youth, and other marginalized groups. This approach is both rights-based and pragmatic: land users' human rights are intertwined with biodiversity. Rural land users should be equipped and incentivized economically to co-design and lead these efforts, and secure tenure is an essential component of this engagement.
Women—especially Indigenous and other rural women—suffer disproportionate impacts from biodiversity loss and climate change. Because many women's livelihoods depend on the management and consumption of diverse natural resources, they often bear a greater brunt of challenges than their male counterparts when these resources are destroyed or depleted. At the same time, women are powerful agents for engaging in protection of biodiversity, because of their unique roles and knowledge of natural resources within their communities. Unfortunately, women are radically under-represented in decision-making spaces related to conservation, climate action, land governance, and land administration at all levels in least-developed countries, from households and village councils to parliaments.
This lack of power contravenes women's rights as well as good natural resource management. Emerging evidence suggests that when women hold secure rights to land, efforts to protect biodiversity and address climate change are more successful. Research also shows that increasing women's control over land increases their local-level decision-making ability. Rights to land are further likely to contribute to women's influence more broadly—greater levels of assets correlate with greater levels of political involvement. When women have greater economic power, they possess greater political power, and in turn greater presence and influence in national and global level policy making on biodiversity.
The Convention on Biological Diversity is a multilateral treaty that aims to protect biodiversity. While the CBD was originally drafted in 1992, its post-2020 Global Biodiversity Framework is currently under review. The CBD strengthens its global uptake by closely aligning its measurable impact with the Sustainable Development Goals' metrics. That said, the current draft of the post-2020 framework is weakened because it does not yet fully integrate SDG indicators concerning land rights and inclusive governance, particularly for women and Indigenous groups throughout the draft framework.
While the current draft of the monitoring framework includes references to inclusive land rights as well as inclusive decision-making and holistic governance approaches, it would benefit from stronger linkages to the SDG indicators related specifically to inclusive tenure rights and governance. A focus on better inclusion in national institutions would contribute significantly to better land governance and stronger tenure security in support of biodiversity. Adding more SDG linkages will strengthen biodiversity conservation by addressing some of the root causes of land degradation: weak land tenure and nonrepresentative governance.
Importantly, the CBD should work with States Parties and other UN bodies to align policy efforts between land governance and ministries responsible for biodiversity, climate change, and the SDGs, in order to ensure that legal and policy frameworks are harmonized and mutually reinforcing. This will require institutional capacity building, but this investment is both necessary and efficient. These streamlined and coordinated national-level efforts will contribute to reaching the goals of the CBD, the SDGs, and other global agendas, including the UNFCCC, the UNCCD, and human rights frameworks.
Securing land rights and ensuring land governance that is inclusive and representative of communities is crucial to undoing power imbalances and addressing lack of access to government services or lack of incentive for sustainable use of biodiversity. States Parties should be urged to make a significant investment in rural infrastructure and resources for rural land users, to address multiple interlinked national and transnational policy priorities, including biodiversity as well as climate change, food security, and sustainable urbanization.
Secure, legal land rights—particularly for women, youth, Indigenous Peoples, and other marginalized populations—as well as inclusive land governance, are foundational to achieving the goals of the Post-2020 Global Biodiversity Framework, and to ensuring the survival of rural and Indigenous communities in a post-COVID-19 world. As stewards to 80 percent of the biodiversity found on our planet, these communities are the world's central agents for advancing fundamental goals of conservation, climate resilience, food security, and human rights for all.