What happens when you send 130 college students to thousands of villages in rural China, armed with pens and camera phones to ask farmers strange and sometimes awkward questions?
In Landesa, we call it our 2010 nationwide sample survey on Chinese farmers' land rights. And it is how we capture some of the most detailed facts about how China's land reforms are affecting farmers. But this exercise produces not just cold hard facts about how Chinese farmers are investing in their land and improving their lives, but also tons of great stories and pictures. Let's start with my favorite one: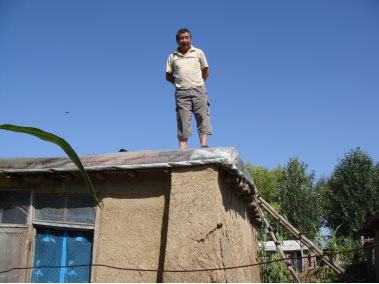 One day in last August, Wang Lin, a junior at China Renmin University (Beijing), went to Fuxing village, Heilongjiang province (northeastern China), and found Mr. Li Quan fixing his roof. After explaining where he came from, Wang asked if it was okay to poke into Li's life as a farmer, questions like how much land Li had and what crops were growing on it.
When I first showed the above picture to one of my colleagues, she asked if this was an example of what farmers would do in China to avoid being questioned. Of course not. I have this  picture to prove it: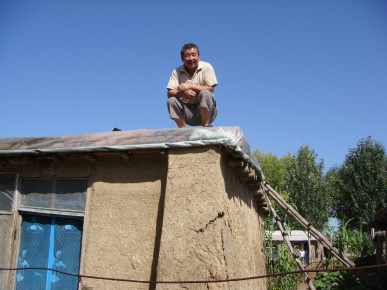 See, Mr. Li was happily smiling when Wang went through his 22-page and 142-quesiton questionnaire.
About 130 college students went to 1,564 villages – by train, bus, bicycle, boat, and often on  foot – in 17 major agricultural provinces across China to  collect this valuable first-hand information on farmers' land rights. The 17 provinces included in the survey together contain an estimated 83% of China's rural population (see the greyed provinces below).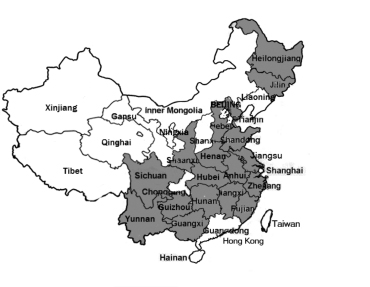 This is actually the fifth time we have done this type of large-size sample survey in China. Landesa, in partnership with China Renmin University and Michigan State University, have conducted such a survey in 1999, 2001, 2005, 2008, and now 2010. This represents the longest-running survey series on the important issue of farmers' land rights in China. The survey covered a wide variety of land issues, including land rights contracts and certificates, land transactions, land expropriations, and farmers' investments in land. We also asked interesting questions such as whether a farmer's home had a cell phone or a solar-powered shower (FYI: 84% of the surveyed families had cell phones and 33% had solar-power showers).
An accurate assessment of the progress that has been made with respect to the goal of securing farmers' land rights, and the impact of such progress, can only be derived from a systematic monitoring on a national basis. The findings are critical to the design of Landesa's program work in China; and most importantly, we use the results to brief senior officials and central government agencies so that better laws and policy can be made to secure farmers' land rights.
We have found some good and positive news on some aspects of farmers' land rights, but there is still a long way to go. On the positive side, we have found that 63% of villages have issued at least one required document to farmers to confirm their land rights, and for the farm families that have received relative secure rights, a substantial proportion of them have begun to make mid- to long-term investments in land. On the negative side, illegal expropriations of farmers' land by local government is still rampant and seriously undermining the security of land rights. The survey's major findings will be published by the Chinese Academy of Social Sciences this month, and a full English report will  be available this summer..
Finally, kudos to these student enumerators who traveled long and far in the summer heat!