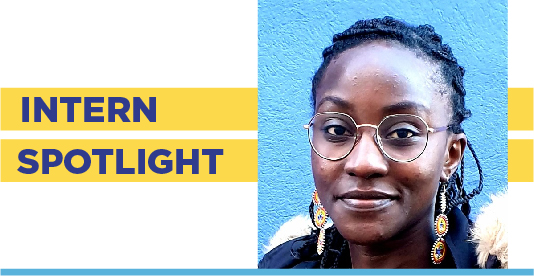 Joy Imbuye is interning with Landesa's Africa Program team, supporting projects related to youth land rights, women's land rights, and climate change. She is currently pursuing her second Master's degree in European and International Project Management at the University of Nantes in France. Before her internship, she worked with a group of students to create a project management 'clinic' for the Master's program.
What brought you to Landesa?
While I enjoy my coursework, I am very excited to be an intern at Landesa because I have the opportunity to work in areas that match my interests in law and project coordination to serve humanity in the best way possible and with equally enthusiastic colleagues. Landesa's outstanding work in collaboration with relevant governmental bodies and other partners to protect the land rights of the underprivileged in the world encouraged me to seek to join Landesa.
What is your favorite part of interning for Landesa?
I delight in collaborating with other colleagues to ensure that women's and youth land rights are secured. Likewise, I appreciate that Landesa includes a climate change lens while working to secure land rights. The work environment is very inspiring and positively engaging. The list is endless.
What is something you've learned so far?
I've learned that in most rural settings in Africa, women and youth are left out in decision-making in matters concerning land tenure. Therefore, there is a need to work closely with the relevant governing bodies and other partners to raise awareness, which encompasses Landesa's work.
What do you hope to do in the future?
I look forward to pioneering equal youth participation in safeguarding their land rights and their response to climate change in Africa and the global context. I hope to join forces with other colleagues to alleviate poverty and advocate for international human rights.
Describe your vision for a better world.
My quest is to live in a world where equal opportunities and rights of individuals are guaranteed and respected, regardless of their gender and nationality.