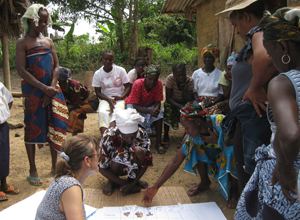 Three Landesa program staff returned this month from Liberia where, with seven Liberian researchers, they conducted research on customary land tenure with the purpose of informing intended reforms to land policy and law in Liberia. The research was carried out on behalf of the Land Commission of Liberia, an autonomous government body established in 2008 to institute new policy and law on land in Liberia. The project is supported by USAID and Millennium Challenge Corporation.
The fieldwork for this activity spanned four months. Teams spent weeklong periods living in eleven rural communities in eight Liberian counties, implementing an intense program of qualitative research. 
We made some unexpected findings. While there is general consensus that unresolved land tenure issues continue to feed tensions in the country, in most parts of Liberia the civil war and resulting displacement are not the primary drivers of tensions in rural areas. Rather, severe tenure insecurities stem from inadequate recognition of customary land tenure systems, which pave the way for commercial interests, elites and government agencies – what Liberians often call "big hands" — to acquire or otherwise control land at the expense of rural communities.
While present law provides some scope for rural communities to have their land rights documented, the path to acquire a "Tribal Deed" is cumbersome, expensive, convoluted, and highly vulnerable to corruption. State-backed land rights are therefore out of reach for most rural communities. Adopting new models – policy, law and implementation strategies – that can effectively overcome pervasive rural tenure insecurities is critical for Liberia to avoid slippage back into civil conflict.
Landesa is presently preparing a final report that analyzes the implications of the case study findings and distills critical policy recommendations. This report is expected to form the basis of a national workshop led by the Land Commission aimed at strengthening legal recognition of customary land rights in Liberia.