Reflections from Sundance: The Power of Data versus Story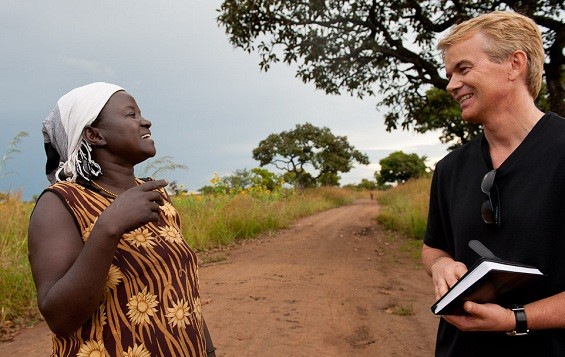 I'll Tell You a Story
A week spent at the Sundance Film Festival usually includes photo opportunities in your best mountain chic, mingling with celebrities, and getting a sneak peak at the world's best films of the year.
That's true for most visitors to Park City this time of year. But for a small group of social entrepreneurs, something even more magical happened last week in the mountains of Utah. Landesa, along with leaders from three other world-class nonprofit organizations (Fair Trade USA, GoodWeave, and Injaz), four award-winning documentary film makers (Cori Shepherd Stern, Patrick Creadon, Mona Eldaief and Kirsten Johnson) and experts from the Skoll Foundation and the Sundance Institute, explored how  to better leverage storytelling to achieve large-scale social impact.
What did I learn?  The best way to explain is, naturally, to tell a story. And mine begins with a confession of sorts.
As a data-driven leader, for years I have carried a prejudice against the value and power of storytelling, often thinking of stories as too anecdotal, bordering on the shallow. I thought a powerful story was a relaxing respite from metrics, serving more or less as a colorful parenthesis within an analytical argument.
Yet through our discussions, I realized that my own calling to global poverty began not with data, but through hearing the stories of fellow agricultural day laborers, whom I worked beside as I grew up in the Pacific Northwest.  You see, I trace my initial interest and motivation for working on global poverty issues to a summer when I was ten years old, working in the berry fields along with Mexican migrant families.  Interacting with the Mexican migrant children opened my eyes to social injustice – they worked so hard, yet had so little. They migrated with the harvests, moving from farm to farm and shack to shack.  Their landlessness and poverty in southern Mexico forced them to follow the promise of opportunity in the north, where they continued their struggle to feed their families, in fields thousands of kilometers from home.
The stories of these migrant laborers instilled in me a drive from a young age to tackle the source of a problem, rather than treating the symptom. This curiosity eventually led me to the cause of land rights for the rural poor, and I've been advocating for land ownership ever since.
And like most classically trained lawyers, for the last 25 years I have relied heavily on numbers and the power of a well-constructed argument to achieve change. But as a result of the Stories of Change workshop, I now agree with researcher Brené Brown who maintains that "…stories are just data with a soul."
Stories are where numbers find meaning. A beautifully constructed story is where a statistic inspires action and a coherent rationale is transformed into a compelling call to action. But most important, a powerful story will change the world through deeper insight, empathy and understanding.
For Landesa, this now means how we tell our own story will evolve. In our work on behalf of the one billion rural poor who lack rights to land, we have thousands of stories that deserve to be told, and told well.  And through our stories, our message about the power of land ownership will become more memorable. This is where movements take hold for generations.
This post originally appeared on the Skoll Foundation's website. Tim Hanstad is the President and CEO of Landesa and a 2012 recipient of the Skoll Award for Social Entrepreneurship.