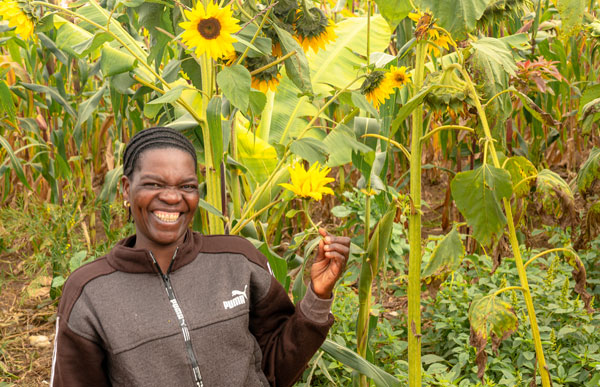 Secure land rights are the bedrock for strengthening agriculture, advancing climate justice, and empowering rural communities. And who has a voice in decision-making on land use and access is a key component of equitable land management. In Tanzania, Landesa is supporting local efforts for community-centered land management, helping to ensure that all voices are heard – including women, youth, and others who are traditionally excluded from decision-making around land.
Imelda Kalinga is a widow in Mufindi District, Tanzania. Following the death of her husband a few months ago, she couldn't call her farm her own. She had limited options to register land under her name, which put her at a risk of losing the land she farmed with her family for decades due to harassment from her in-laws.
To help widows like Imelda, Landesa launched an innovative, gender-responsive land use planning process. Now she has her Customary Certificate of Occupancy. The participatory program increased the awareness of women like Imelda regarding their land rights, helping to accelerate gender equality and women's empowerment.
In partnership with the Mufindi District Council and PELUM Tanzania, Landesa supported government land use planning efforts to promote rural development that places communities in the foreground in decision making. In 2022, the collaboration successfully delivered over 4,000 Certificates of Customary Rights of Occupancy to smallholder farmers in eastern Tanzania, in conjunction with land rights education, village land mapping, and inclusive land use planning processes. More than 45% of these certificates were issued to women, jointly or individually and more than 19% to youth, increasing their ownership and control over land, and the power to decide how their land is used.