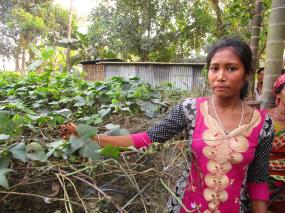 When her mother died, Babli Roy was just two and half years old. She hardly remembers her face. Her father had died before she was born. Even for a perpetual optimist, Babli's future seemed grim.
But today, Babli, 14, is flourishing, along with the garden she tends at the home of her uncle, who has raised her since she was a small child.
"I found the seeds in the house," said Babli, who lives in Jalpaiguri district, West Bengal. "I planted nine seeds." Two months later, the nine seeds have grown into a dense tangle of creepers stretched over a bamboo mesh she constructed.
"This is a special type of flat bean," she said, cradling a strand of the tender vegetables. "They're called gangradim flat beans.' The beans are small in size but grow in bunches, she explained.
A year ago, Babli attended a training on kitchen gardening in her village, facilitated by Landesa as part of its Girls Project, which mobilizes adolescent girls to better understand their rights to land and to avail the benefits of government programs and resources.
With the knowledge gained from the training, she planted a kitchen garden on a small plot of land adjacent to her uncle's house. She also accessed a government program to encourage girls to remain in school, which provided her with a grant of 750 rupees (about $11.25 USD), a small portion of which she spent on school supplies, and saved the remainder for education expenses and to invest in her garden.
The beans will be ready to harvest in a couple of weeks, and then?
"It will be for the family," said Babli. "We will also give some to our neighbors, and if there is a surplus, we will sell it in the market." She paused and added, "I will have to buy some books, too."
Babli is so immersed with her newfound skill that she plans to continue the practice after the beans are cultivated. 'I want to plant peas or maybe some other summer vegetables after this,' she said.
Learn more about the Security for Girls Through Land Project >>