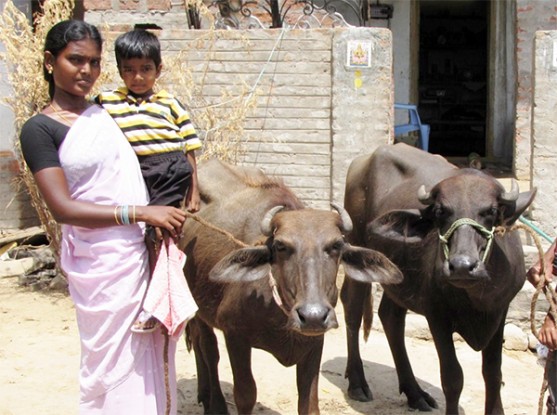 For years, Sushmita worked as an agricultural laborer alongside her husband.
But no matter how many hours they toiled in others' fields, they never earned enough to buy three proper meals a day for themselves and their children.
Sushmita suffered from stomach pains and infections caused by her poor diet. It was a life of unending suffering.
"My husband would beat me up everyday and my in-laws never valued me as I did not own any property," said Sushimita, 29, at her home in the village of Alaganipadu, India.
Then, she and other poor landless women in her village applied collectively for a loan to buy a plot of land through a program designed in part by Landesa.
Today, she grows much of the fruits and vegetables her family needs on the plot she owns and sells the excess. With that income, she bought two buffaloes which produce milk for her family.
With the income from the surplus produce and milk, Sushmita has since made improvements on her home and plot, helps support other relatives, and offers loans to other women in the village. She said proudly, "My life has totally changed. My kids are going to school and my husband has stopped beating me."
Sushmita added, "I draw strength from the land I own."