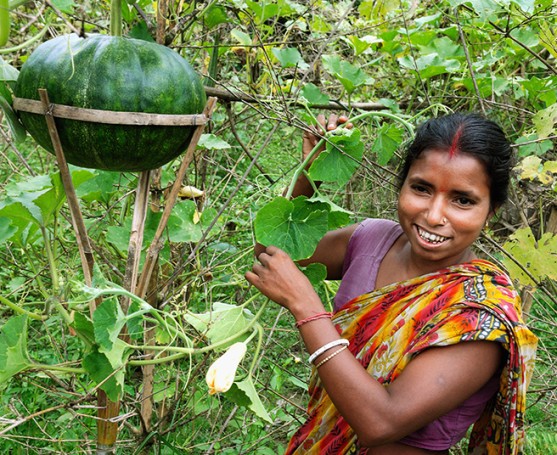 Suchitra Dey remembers the weeks of hunger.
When her husband, a truck driver, would travel for work, there was often no food or money in the house. "I would borrow some money from relatives and friends to buy food," said Suchitra, 35. The coins she scrapped together would buy Suchitra and her daughter a single meal each day—enough to survive.
"People used to call us rootless creatures," said Suchitra Dey. "But now, we feel proud as we have our own address."
Suchitra gained ownership of a micro-plot of land through Landesa's partnership with the state of West Bengal.
On her 1/7th of an acre in the village of Santinagar, West Bengal, she grows beans and gourds in the summer, and cabbage, spinach, carrots, and eggplants in the winter, to banish her days of hunger.
The income from excess harvests sold at market has doubled her family's income. In the house Suchitra and her husband built on their land she rolls handmade cigars to further boost the family's income.
Suchitra says she is already dreaming of an even better future, "I started saving money. I want to ensure a proper education for my daughter (9-year-old Tulsi). And, if possible, I'll construct a good concrete house."
The 36 families who make up her village, all of whom became landowners in 2009 and 2010 thanks to Landesa's partnership with the state of West Bengal, have named their village Santinagar, Bengali for "town of peace."