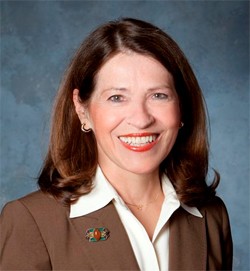 Partner post by Sally Osberg, CEO of Skoll Foundation. This article originally appeared on the Huffington Post.
Just as I was coming up for air after our ninth Skoll World Forum, held each spring in the U.K. at Oxford University, David Brooks' New York Times column on social entrepreneurs hit my desk. Talk about timing!
For starters, Mr. Brooks cites coffee shops, universities and "a certain sort of conference" as fertile ground for bumping into "some of these wonderful young people who are doing good." Big note to self: be sure to invite him to the Forum next year. Not only would this global community of 900 delegates welcome his savvy perspectives, he'd discover just how many social entrepreneurs are actually doing what he thinks they aren't.
In his provocative piece, "Sam Spade at Starbucks," Mr. Brooks attests to the appeal of the "refreshingly uncynical" women and men he considers social entrepreneurs. But they're missing a big beat, he believes, by shunning government, and by thinking "they can evade politics" in their pursuit of social progress. Our experience at the Skoll Foundation suggests otherwise.
So, with all due respect, allow me to take up Mr. Brooks' gauntlets.
Contrary to his concern that "you can cram all the nongovernmental organizations you want into a country, but if there is no rule of law… your achievements won't add up to much," in fact, many social entrepreneurs are directly and indirectly supporting the rule of law. Landesa, for example, a new addition to the Skoll Foundation portfolio, works with governments in 40 countries to transfer property rights, which ultimately bring food, income, and the opportunity to transcend poverty. In India, for example, a local state government worked with Landesa to educate women about their land rights and help them through the land-application process. Already, 100 women in that small area have their land titles. They are counted among the 105 million families who have received land rights because of Landesa's government partnerships.
Mr. Brooks is concerned that social entrepreneurs have "little faith in the political process." But a number of organizations work with a "healthy political process." Camfed (the Campaign for Female Education) partners with the Zambian government to enforce child protection as a cornerstone of its education plan. (In Africa, it's common for teachers to pressure their female students to have sex with them). Now, 1,500 schools have these plans in place. The real social progress? Experts agree the best way to bring lasting social benefits to a country is to expand educational and economic opportunities for girls. In total, Camfed has given grants to 60,000 girls to complete secondary school.
While Mr. Brooks thinks young activists are "not as good at thinking nationally and regionally," Partners in Health (PIH) is doing just that, by partnering with the governments of Haiti and Rwanda to ensure sustainable access to first-class medical care. In Rwanda, the year-old Butaro Hospital is a collaboration between PIH and the Ministry of Health. It provides salary incentives and extensive training to healthcare workers. In Haiti, PIH will soon open Mirebalais Hospital, which former President Bill Clinton recently visited. PIH is also helping the Haitian Ministry of Health develop an immunization program to protect all Haitians against cholera, which has already killed more than 7,000 people.
Mr. Brooks says "There's only so much good you can do unless you are willing to confront corruption, venality and disorder head-on." He says social entrepreneurs rarely talk about "honest courts." However, theInternational Center for Transitional Justice (ICTJ) has taken its innovative methodology global, bringing transitional justice specialists and practitioners together from diverse contexts to share knowledge, offer comparative advice and technical assistance, and build local capacity.
ICTJ has helped create transitional justice systems in more than 35 countries, healing millions of human beings who thought they were beyond redemption. Most recently, they are making sure that countries like Lebanon have a way to find their missing. (An estimated 17,000 people went missing in Lebanon during the civil war). The High Court in South Africa issued a temporary interdict preventing the president from granting pardons to political perpetrators without consulting victims. ICTJ was at the center of making this happen.
In sum, effective social entrepreneurs are what the late John Gardner called "tough-minded optimists." Every bit as hard-headed as the dashing Sam Spade, they know that social justice depends upon citizens capable of claiming their rights — and governments capable of delivering.