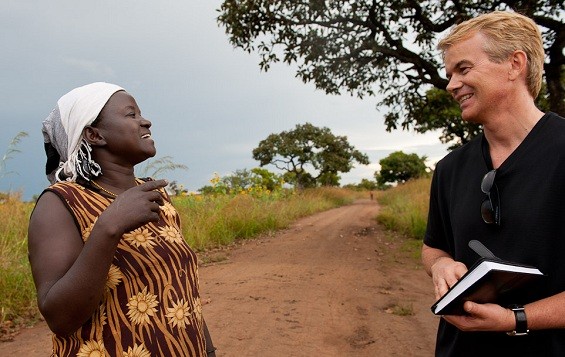 During my 27 years at Landesa, including the last ten as CEO and President, I've had the privilege of seeing both Landesa and the issue of land rights grow in prominence.
A quarter century ago, few people were talking about land rights or recognized the issue's importance in alleviating poverty and creating peaceful and prosperous societies.
That has changed – and for the better.  Increasingly, influential leaders and organizations are recognizing the importance of broad-based and strong land property rights as a fundamental building block for economic and social progress.  Now we have Oxfam leading a land rights related campaign and prominent world leaders like David Cameron, the UK's Prime Minister saying, "I am convinced that we need to focus more than ever on the building blocks that take countries from poverty to prosperity…. The presence of property rights and the rule of law…"
I firmly believe that land rights issues will continue to ascend within the international development arena, and likewise, Landesa's star will continue to ascend as a leading land rights organization.
Ascendancy.  It's a term and concept on which I have been reflecting.  You see, in a world that expects, pursues, and even glorifies ascendancy, I have made a personal decision going against that grain.  After ten years of serving as CEO, I have decided to step down from that role and transition to a different leadership role within Landesa.  In doing so, I am following my passion for land rights program work – a passion that first drew me to the field more than a quarter century ago.  My new role will be closer to Landesa's program work  and allow me to  devote more time to leading Landesa's country-level programs, be a global ambassador for land rights, and help mentor the next generation of land rights experts.
While my decision to step down from the CEO role was largely driven by my passion to return to program work, I also believe it to be in the best interests of Landesa.  I remain firmly committed to the organization.  I took on the CEO role at the urging of both Landesa's founder and board ten years ago.  Although I recognized that the CEO role would take me farther away from my true passion of land rights program work, I accepted the role with the determination to build a more impactful and capable organization.  I also accepted it with a view towards one day passing the CEO baton to another leader.
I believe that leadership transitions are necessary for any organization, and it is every leader's responsibility to ensure that those transitions are healthy and well-planned.  My predecessor, Landesa's founder Roy Prosterman, modeled this for me.  In stepping down and urging me to step into the CEO role, he convinced me that the right leader for a particular phase of an organization's maturation is not necessarily the right leader for a subsequent phase.  And, although he continued to play a vital role within Landesa, he stepped back and let me lead.
Fresh energy, different eyes, and new experiences and leadership skills can breathe new life into an organization, even a very successful one.  And I am confident that will be the case with Landesa.
I am likewise confident that now – with Landesa's strong record of impact, strengthened capacity,  increased support and partnerships within the international community, and growing interest in our work – is the time for such a transition.
My successor will inherit a deeply committed, successful, and impactful global organization that is poised to take advantage of the growing interest in secure land rights for women and men.
Toward that end, I've asked Landesa's board to begin an international search for a new CEO. Once that search is complete, I look forward to working with and for this new leader to provide opportunity for millions more women and men through the power of land rights.
I'm confident that we'll find someone who can powerfully represent Landesa and those we serve at global forums, someone who can ably manage the organization's continued growth and impact, someone who can continue to build partnerships within the development community, and someone who can skillfully address the challenges and embrace the opportunities of the next chapter.
I'm excited about this transition that will give us, our partners, and beneficiaries another committed champion.
In the end, this will bring more potential for impact on a global scale.
I am so proud of everything my Landesa colleagues, our board, supporters, and numerous partners have accomplished together. The issue of land rights is gaining traction. Countries  around the world from India to Kenya are making tangible progress in providing secure land rights to an expanding number of their citizens.  There is a growing international recognition that if we want to advance food security, women's empowerment, economic opportunity, social inclusion, environmental stewardship, rule of law, and peaceful societies, we need to tackle land rights.
Teddy Roosevelt once said that life's greatest gift is the opportunity to work hard at work worth doing. I agree and feel blessed and deeply humbled that I've been able to play a role in helping Landesa, alongside many like-minded organizations, lead this new wave of land rights awareness and action.  And I am certain that we will continue to do so, together.