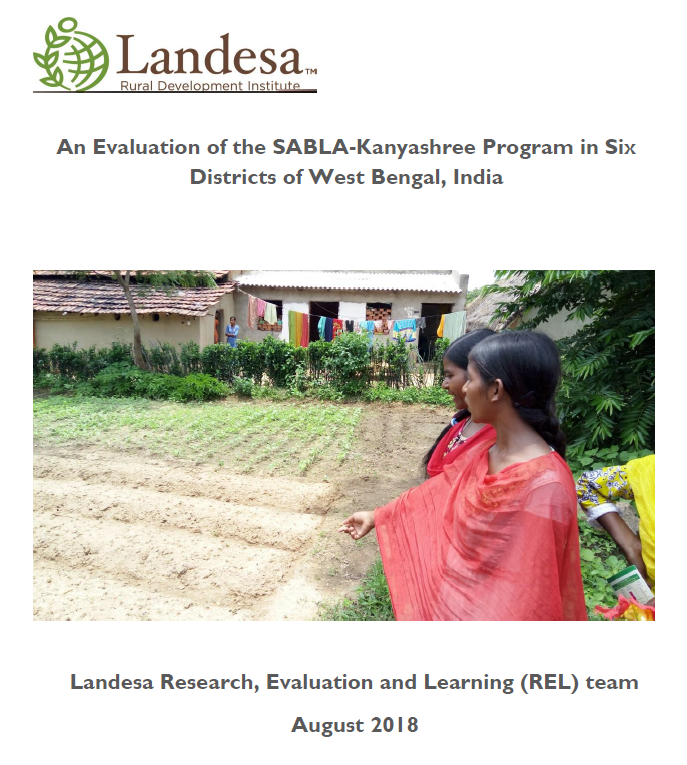 This report details findings from a mixed-methods evaluation of the SABLA-Kanyashree program conducted by Landesa between February and June 2018.
Landesa partnered with the West Bengal Government's Department of Women & Child Development and Social Welfare, whose mission is to empower adolescent girls through the SABLA-Kanyashree program. The program targeted several of the vulnerabilities faced by adolescent girls including knowledge of their land rights, health and nutrition, sexual health, early marriage and poor educational opportunities. Landesa collaborated with the government to create an intervention that would increase girls' knowledge of their land rights, train them in land-based livelihoods, and help to create an enabling environment for adolescent girls, to position them to not only realize their land rights in the future but also empower them in their families and communities.
After a pilot phase conducted by Landesa in Cooch Behar, the project was scaled to 6 districts of West Bengal between 2015 and 2018 by the West Bengal State Woman & Child Development (WCD) department with the technical support of Landesa and Child in Need Institute (CINI).