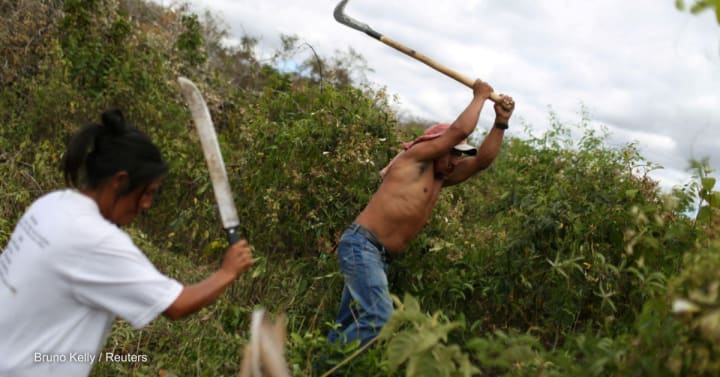 This blog was originally published by Devex.
By Rachel McMonagle, Climate Change and Land Tenure Specialist, Landesa
After 12 frenzied days of side events and negotiations amid the 26th United Nations Climate Change Conference, the Glasgow Climate Pact joined the long list of international agreements aimed at saving our environment. We must ensure it does not join the list of international agreements that have fallen short of doing so. With countries reaffirming the Paris Agreement's daunting goal of limiting global warming to 1.5 degrees Celsius, the question now turns to how countries can fulfill these commitments.
Climate change is such a multi-faceted, acute challenge that it necessitates a multi-faceted solution. We need high-level global summits like COP 26 just as we need investments and recognition of grassroots organizing, wherein local micro-actions on climate change add up to yield global impacts. As we consider the extensive assortment of Glasgow's outcomes, a powerful tool emerges to engender this collective impact: land rights.
For national governments pursuing their climate commitments, securing land tenure for their rural populations would lay the foundation for effective, sustainable climate action. Consider three prominent outcomes from COP 26:
Forest protections
With the Glasgow Declaration on Forests and Land Use, over 140 countries holding over 90% of the world's forests pledged to halt and reverse deforestation by 2030. The $19.2 billion pledged at COP 26 to protect and restore forests includes $1.7 billion to support Indigenous peoples and local communities in doing so.
Securing land rights for Indigenous peoples, who manage one quarter of the world's land yet hold the rights to less than half of that, will be crucial to see this pledge become reality in the next decade. We have already seen the powerful effect strengthening Indigenous rights can have on forests, such as reducing deforestation by 80% in the Peruvian Amazon.
Further, the Glasgow declaration calls for investment in sustainable agriculture and forest livelihoods, recognizing the critical relationship between natural resource-based livelihoods and environmental conservation.
Adaptation financing
One of COP 26's breakthroughs was the recognition of Indigenous peoples and local communities in the Glasgow Climate Pact's final text. That said, money has historically failed to reach Indigenous communities. Only time will tell if this explicit recognition in the text is truly a turning point for investment of climate finance in Indigenous rights.
The Glasgow Climate Pact significantly boosts funding for climate adaptation to lower-income countries, committing to $40 billion annually by 2025. It is essential that this adaptation support reaches the smallholder farmers, forest users, and pastoralists, as they are among the most vulnerable to climate change. Evidence has shown that securing land rights can be an impetus for climate-smart agriculture by encouraging farmers to make long-term investments in soil health.
While the adaptation financing is promising, COP 26 failed to make meaningful progress on loss and damage funding to compensate for climate-induced harm and suffering.
Emissions reductions
The Glasgow Climate Pact sped up the timeline for member countries to review their Nationally Determined Contributions — plans to cut greenhouse gas emissions originating from the Paris Agreement. For countries to show suitable progress, they will need to take a close look at their land use sectors.
Secure land rights can create an incentive for sustainable land use, which has huge potential to curb emissions. And strengthening Indigenous land tenure especially offers a proven path toward emission reduction.
As we strive to fulfill the commitments made in Glasgow, we are faced with the reality that COP 26 excluded countless key change-makers' voices, due in part to necessary pandemic-related access restrictions. As we shift from discussion to action, it is critical we learn from and invest in local climate leaders, namely women, Indigenous peoples, and youth.
While momentum for gender in the climate movement grew on Gender Day at COP 26, there remained concerns around both lack of access and lack of action. Similar access concerns ring true for Indigenous peoples, and while the textual recognition in the Glasgow Climate Pact was a step forward, concrete action must follow. Finally, we must look to the youth, who have been calling for action all along.
Securing land rights for these leaders will prove a potent force against climate change as we move forward. For 12 days, the focus was on drafting theoretical commitments. Now, it must shift to investing in local land stewards — the climate actors leading the way.