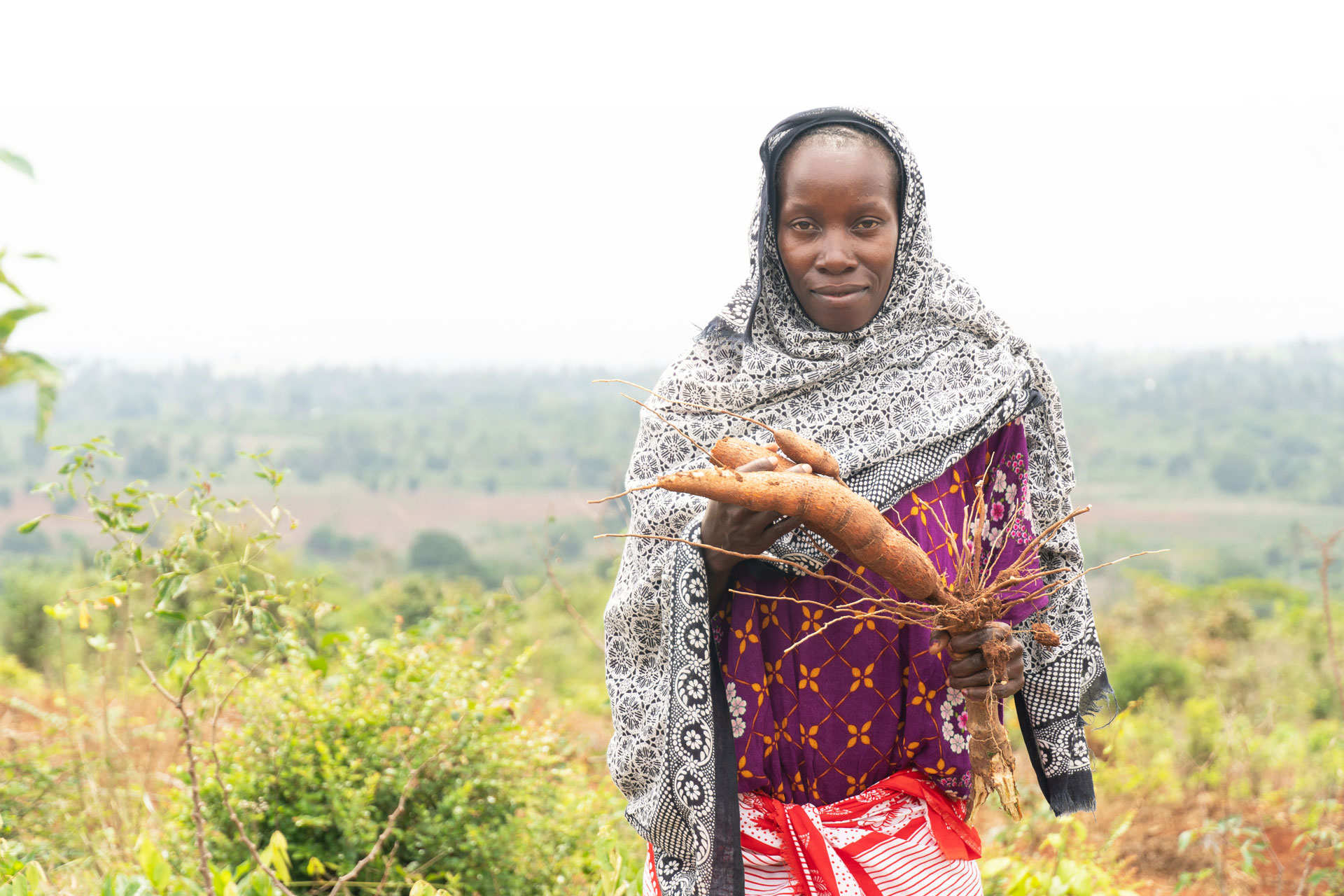 This blog was originally published by Global Washington.
By Beth Roberts, Director, Center for Women's Land Rights, Landesa
Around the world, women are the backbone of agriculture.
From the rice paddies of Asia to the maize fields of sub-Saharan Africa, women are so often responsible for shouldering the labor of farming – they till, plant, water, and harvest crops that feed households and whole communities.
Thirty percent of working women worldwide are employed in agriculture, according to data from the International Labour Organization. The share of women working in agriculture rises to 57 percent in sub-Saharan Africa and 60 percent in South Asia — in both instances exceeding the share of men working in farming. And that data almost surely underrepresents women's contributions to agriculture. Too often, women's on-farm responsibilities are reduced to ordinary domestic duties, cloaking countless hours of productive labor under the guise of "household chores." Seldom recognized for their contributions to the rural economy, millions of women farmers are rendered "invisible."
Compounding this challenge – or perhaps because of it – women encounter significant obstacles to their ability to own, access, and manage land. In fact, less than 15 percent of landholders worldwide are women — a disparity that prevents millions of women from realizing their full potential.
This week, as we observe Rural Women's Day (Oct. 15), World Food Day (Oct. 16), and the International Day for the Eradication of Poverty (Oct. 17), let's observe the crucial element that they all have in common: land.
When women have secure rights to land, they have the opportunity and peace of mind needed to make investments in their land to improve their harvests and their lives.
The opportunity stems from the visibility that comes with being recognized as a farmer. With this recognition, women are better positioned to access agricultural supports — like credit, subsidies, crop insurance, and agriculture extension. Land rights open these doors.
And the peace of mind comes from knowing that their rights to land are secure — that their land won't be taken away as soon as they've made the investments that increase its value and desirability. These long-term investments in land can boost productivity and promote sustainable farming practices, leading to better outcomes for food security and for the planet.
Stronger land rights are also associated with higher incomes for women, according to research. Women are also more likely to invest their wealth back into their families through spending on food, healthcare, and school fees, as well as improvements to their farms, creating a ripple effect that benefits the entire household.
Despite this potential, land rights are still not equitably distributed to all. Instead, women encounter layers discriminatory customs and practices, limited access to justice, and a lack of legal awareness among local leaders and communities. These factors leave women unable to exercise their rights to the land they depend on for a living, even when those rights are protected by law.
The good news is, there's growing energy to close this gap between law and practice and help millions realize the promise of secure land rights.
A new global campaign, Stand For Her Land (S4HL), is activating allies among government officials, advocates, nonprofit leaders, researchers, and social scientists to implement progressive and gender-sensitive land laws at the country level.
In Tanzania, this progress includes support for an innovative mobile legal aid application called Sheria Kiganjani – Swahili for "Law On Your Palm" – that aims to bridge the gap for women to access legal advice and settle disputes over their rights to land. For women in rural areas, having access to legal assistance at their fingertips can be life-changing in a place where the nearest legal aid office may be a day's journey away. The tool has proven even more essential amid the COVID-19 pandemic, as women widowed by the coronavirus have found their inheritance rights under threat.
In Uganda, where discriminatory customary practices often supersede statutory laws in depriving women of their rights to land, S4HL is helping to convene civil society organizations to move the needle forward for women. By investing in community sensitization and training local leaders and land administrators on the importance of women's land rights, S4HL advocates are creating an enabling environment for Uganda's women to enjoy secure land rights. Emerging campaign activities are also on the horizon in Bangladesh, Colombia, Ethiopia, and Senegal, highlighting the truly global nature of the campaign.
With momentum on our side, we can realize women's equal rights to land in our lifetime.