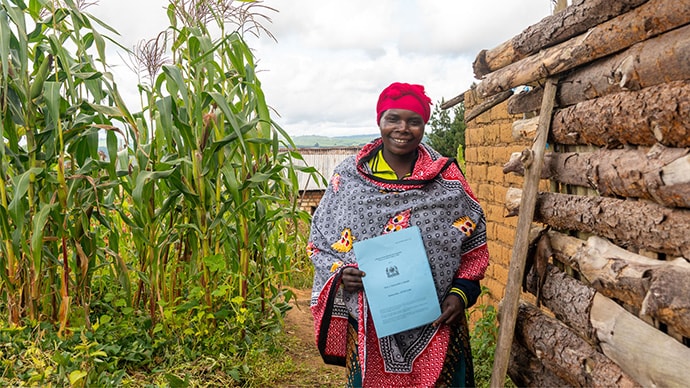 This blog was originally published on Global Washington's blog.
By Chris Jochnick, Landesa President & CEO
For communities across the Global South, the impacts of climate change are not abstract projections but concrete realities that threaten their land and food security. The final installment of the Intergovernmental Panel on Climate Change's (IPCC) assessment points to grim consequences should the world fail to meet the 1.5 degrees C target for warming—and even a 1.5 degree pathway would leave nearly 1 billion people experiencing increased risk of drought. The recent World Food Day on October 16 held grim significance for the millions already experiencing climate-related food insecurity.
The devastating effects of the war in Ukraine—one of the world's leading exporters of wheat, corn, and food oils—have had a ripple effect on food prices around the world, with especially pernicious price spikes felt in African countries where households already invest a disproportionate amount of their budgets on food.
The longest drought in recorded history has pushed millions of people in the Horn of Africa into severe food insecurity, malnutrition, and famine, further exacerbated by war in Sudan.
The COVID-19 pandemic posed a virtually unprecedented disruption to food supply chains, serving to erase years of hard-earned progress on food security. The UN recently reported the prevalence of food insecurity is still far above pre-pandemic levels, with 29.6 percent of the global population experiencing food insecurity in 2022, compared to 25.3 percent in 2019.
These crises are gas on a fire for a global food system reeling from the worsening effects of climate change. Increased temperatures, variable rainfall patterns leading to both drought and flooding, and the ensuing geographic spread of crop pests and diseases associated with climate change pose considerable challenges to agricultural production. With as many as 783 million people hungry globally in 2022, adverse climatic conditions are exacerbating the food crisis. To make matters worse, the communities weakened by food insecurity—the majority of whom already live in poverty—are often the most vulnerable to climate change due to their reliance on rain-fed farming methods. This is a perpetual cycle of instability.
It is a cruel reality that low- and middle-income countries, who bear little historic responsibility for the current climatic conditions, are the ones primarily confronted with its consequences. The establishment of a Loss and Damage Fund at last year's COP27 was a milestone in the debate over climate finance. Wealthier nations must now commit to funding such a mechanism to support adaptation and recovery in climate-affected countries.
But communities in these countries can't wait for funding pledges to be fulfilled, much less, for global mitigation efforts to take hold. Adapting food systems to the new climatic reality is an urgent challenge that farmers are facing right now.
With the right conditions and incentives, smallholder farmers—who bear a heavy burden of climate risks—can adopt climate-smart practices to bolster crop productivity, sustain livelihoods, and lessen food insecurity. Investing in irrigation technologies, building terraces, intercropping, adopting agroforestry, and fallowing land, for example, can offer resilience to drought and changing temperatures. Such sustainable practices contribute to long-term soil health while boosting food yields and diversity, and ultimately enhancing household nutrition.
So why aren't more smallholder farmers readily adopting these practices?
A major and often overlooked factor is insecure rights to the land they till. Many smallholder farmers in lower income countries lack security in their ownership and management of land, making it risky to invest in resilience and adaptation practices.
Imagine you are a farmer whose land is drying and crops are withering. You may have heard about the benefits of building terraces in your fields to increase soil water retention. Such an commitment would require an initial cost of time, labor, and money to construct. Without the security and protection of legally recognized land rights, you may lack confidence you will fully reap the benefits of your investment. And without a legal document proclaiming your rights to the land, you may be ineligible to apply for agricultural subsidies or microcredit.
Now, imagine you are a woman living in the same community. You face these same barriers but are doubly burdened by gender-based discrimination in social norms and practices—sometimes even the law—that determine how land is owned and managed. Chances are, your family or fellow community members have not consulted you about how best to adapt to the changing weather patterns, despite the valuable information you have gained from farming the land throughout your life. As food becomes scarcer, your own health is most at risk, with the nutrition of male household members prioritized above your own.
What if you were recognized as the steward of your land?
With secure land rights, women and their communities across Asia, Africa, and Latin America can act as change agents in adapting to an increasingly unpredictable climate. Women's land rights are a key factor to increasing conservation agriculture, small-scale irrigation, and planting of stress-tolerant and high-yielding crop varieties, all of which have high impact on food security and nutrition. Strong rights to land create an enabling environment and access to resources for farmers to make land use decisions that are best for them, their families, and successive generations.
Secure land rights also offer a bridge to vital external support. Smallholder farmers are frequently excluded from climate finance and other government support aimed at promoting climate-smart agriculture due to their lack of secure tenure.
Enhancing national commitments to secure land rights within international agreements on climate action and sustainable development is crucial to improving climate resilience. It also offers a cost-effective way to address food insecurity—as well as poverty, gender inequality, economic growth, sustainable livelihoods, land degradation, conflict, and other priorities within the Sustainable Development Goals.
As the global community competes for resources across issue areas, stakeholders from national governments to grassroots organizations are eyeing the upcoming COP28 for support. It will be at these talks in Dubai in December that critical components of the new Loss and Damage Fund will unfold, as well as other opportunities for the world to demonstrate meaningful progress. Centering the rights of countries and communities most affected by climate change is essential to this progress.
Land rights are only the start. But a strong foundation, literally, is a crucial prerequisite to the climate resilience and sustainable land management necessary to bolster food security and reach zero hunger. Secure rights to land soften the soil for smallholder farmers—and fill the bowls of the world they feed.