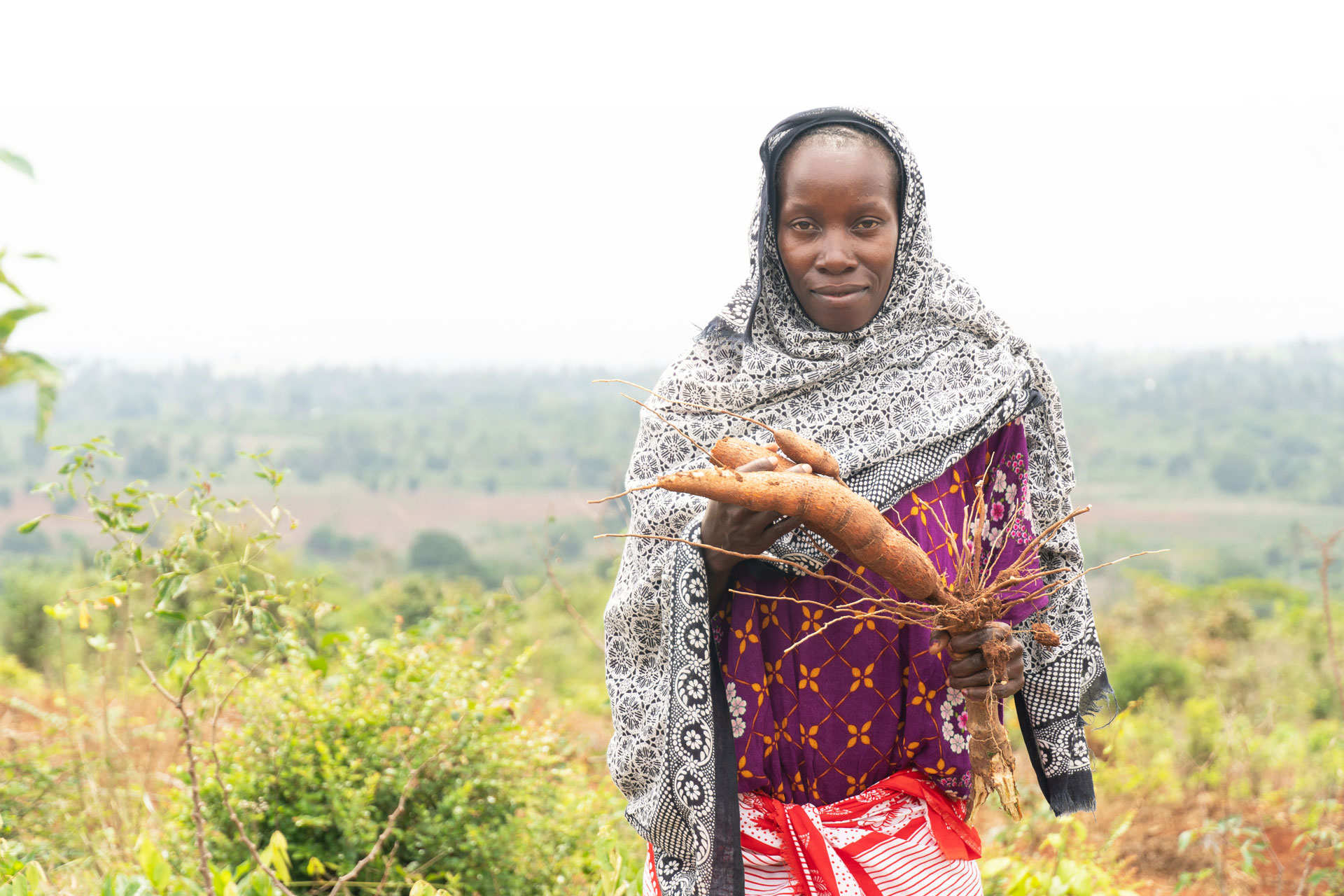 A new campaign, Closing the Crop Gap, aims to raise awareness of the challenges women farmers face compared to their male counterparts, including access to land, financing, markets, tools, and training. This combination of barriers, known as the "Crop Gap," puts a strain on food production and security around the world. 
By Karol Boudreaux
The world's 500 million small-scale farmers help feed the world, and investment in their prosperity is a key to sustainable development. But they face a daunting array of challenges:  a changing climate, fluctuating crop prices, plant diseases, and inaccessible markets and services. Women farmers, who make up an increasing percentage of these small-scale producers, face additional barriers that limit their productivity and their livelihoods.
The FAO has found, for example, that women farmers are less likely than men to have access to improved seeds, mechanized tools, and fertilizer, or the training needed to use them effectively. They also have less access to agricultural extension services and credit. This gender gap in agriculture means that women farmers tend to have lower crop yields than their male counterparts.
But another major constraint makes it difficult for small-scale women farmers to build sustainable livelihoods: women frequently lack control over land, the critical asset for rural livelihoods.  In most countries, as compared to men, women hold less land and have less secure rights to the land they depend upon to grow food for themselves, their families and for the market. The FAO estimates that globally, less than 15% of landholders – defined as primary decision makers about land – are women (figures for land ownership vary but are higher). When women do own or control land, their plots tend to be smaller and of poorer quality than men's land.  This means that a key part of the gender gap in agriculture is a land gap.
What explains the significant divide between women's rights to land and men's?  There are two broad reasons that help explain why women find it difficult, or even impossible, to build better futures using land. First, in many countries the policy and legal environment does not fully support gender equitable land and property rights. Second, social norms and practices prevent women from claiming or exercising rights that do exist.
Take the policy and legal environment.  While conditions have improved over the past few decades, the latest Women, Business and the Law report finds that in 40% of the 189 countries reviewed, women continue to face some legal constraint on their ability to own, inherit or otherwise use property. In 36 countries, widowers have different (and more favorable) rights to inherit property than do widows, and in 39 countries daughters do not have the same inheritance rights as sons (World Bank, 13).
These constraints limit women's incentives to invest in land – whether through irrigation efforts, soil conservation or fallowing. Legal barriers discourage women's participation in markets and make it more difficult for them to leverage land rights to become entrepreneurs, with broader consequences for communities and national economies.  While more countries are recognizing international laws that guarantee women's rights to land and property, and while more are providing women with equal legal rights to own land, implementation of these rights is often weak. Governments regularly issue land titles in the name of the male heads of household rather than to husbands and wives jointly or to single women. Without formal recognition of their rights to land and property, women are vulnerable if they remain single, are abandoned, divorce or if their husband dies.
Discriminatory social norms also frustrate women's ability to own and access land. In as many as 90 countries, customary practices and norms limit women's access to land. These norms can block gender equitable laws and policies from being implemented. They may lead to gender neutral laws being implemented in ways that deepen women's inequality.  Norms also influence whether women can, or cannot, participate in decision making about important family questions, such as how to use land and the income that land generates. Some of the strongest evidence shows that more secure land rights for women increase their empowerment within the home. And when women have more decision-making power in their households as a result of more secure land rights, they invest in their children, increasing spending on education, health care and nutrition.
For the past 50 years, Landesa has been helping millions of rural people break the poverty trap by securing their land rights – a critical step on the path to opportunity. In India, we have helped thousands of landless women acquire small parcels of land on which they can build homes and grow food. In Myanmar, we are helping poor women claim land and get their names onto land documents in sensitive forest areas. In Liberia, we are working with local partners to overcome discriminatory social norms and support women and youth to exercise their land rights. And we regularly partner with development agencies, leading food and beverage companies, and certification bodies to improve agricultural supply chains through responsible, gender-sensitive investing. Today, we are pleased to be working in several states in India with PepsiCo to build awareness of, and respect for, women's land rights as an important issue in the sugar and potato supply chains.
We know this work matters:  providing women with more equitable opportunities to own and control land can have transformative outcomes at multiple levels.  With more secure land rights women will experience increased empowerment and status; their families will experience improved food security, health and education; and countries will experience more participatory and sustainable economies – just the kind of positive change we should all support.
Karol Boudreaux is Landesa's Chief Program Officer.