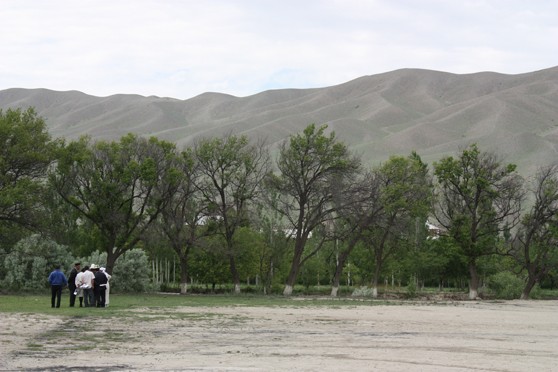 I was recently reminded of the importance, and the potency, of locally legitimate law reform (law reform which is based on what is feasible in practice and which can serve the dual purpose of satisfying a national agenda and reflect local needs).
Landesa recently concluded a project in Kyrgyzstan, which sought to develop and then test a community-driven model for managing conflict over pastureland resources. The pilot ayil okmotus, or municipalities, are located along the Kyrgyzstan-Tajikistan border of southern Kyrgyzstan, and contain two Tajik enclaves of Chorkhu and Vorukh.
A bit of background: Relations between ethnic groups in the Kyrgyzstan (and Central Asia) area can be tense, and have erupted into violence on more than one occasion (you might recall the events of June, 2010, in the nearby Jalalabad oblast).
Pastureland is the nexus of interdependence and (sometimes violent) tension between Tajiks and Kyrgyz.  Every Kyrgyz and Tajik household owns livestock, yet there are no pastures in the Tajik enclaves of Vorukh and Chorkhu.  Tajiks rely on Kyrgyz pastures to feed their livestock during the grazing season, and Kyrgyz must cross the Tajik enclaves to access their pastureland.
To address pasture use needs, the Tajiks and Kyrgyz in the pilot area make arrangements for Tajik animals to be grazed on Kyrgyz land.  Yet those arrangements are informal, lack transparency, are not enforceable when breached, and are conducted without the knowledge of national policy-makers and without support of a legal framework at the national level.
The last point is an important one, and it became even more important during the course of project implementation.  About mid-way through activities, the two national governments, determined to address historical violence, drafted an interstate agreement on the management of pastures in border areas.  But provisions of that agreement were clearly drafted without first understanding the situation on the ground.  If implemented, the interstate agreement would have very likely led to serious conflict between Tajiks and Kyrgyz, and exacerbated already tense relations.
The project team took the opportunity to arrange a community consultation meeting between the national ministry, local authorities, and users of pastures in the border areas.  It was an opportunity for the ministry to hear first hand how pasture use between Kyrgyz and Tajiks was being managed and the practical solutions the local population had devised to address the problems which they faced on a daily basis. And it was also an opportunity for people in the border areas to learn about national level priorities.
The consultation between the ministry and the border communities, as well as other advocacy and negotiation by the project team, proved convincing.  The ministry did not endorse the interstate agreement, and it then asked the project team for recommendations on how to formulate a workable interstate agreement between Tajikistan and Kyrgyzstan on pasture management in border areas.
This result, along with other activities of the project, reminded me of the importance of two-way communication – between national decision-makers and community members, and visa versa – when it comes to legal and policy reforms. While it is often true that communities are best suited to managing conflict on issues that affect them, community management cannot occur in a vacuum. Instead, community management should be part of a larger, state-endorsed policy for managing conflict; such a policy must have a supportive legal framework, which reflects what is desired, understood, and workable by those it seeks to affect.
The project completion report will be available soon on Landesa.org.