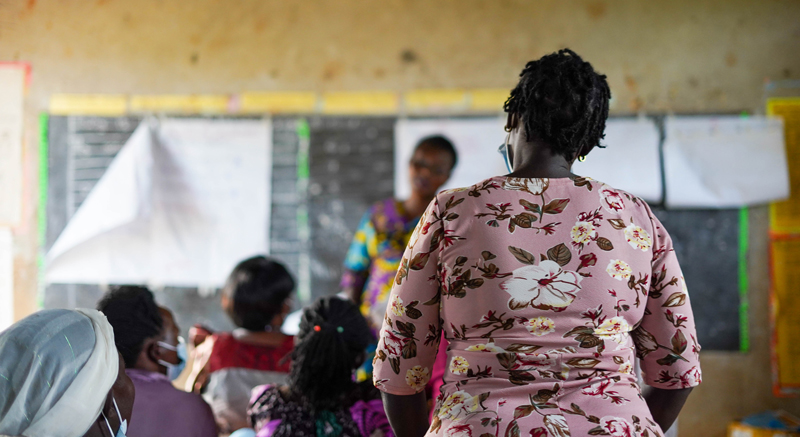 This blog was originally published by International Land Coalition.
By Gina Alvarado and Caitlin Kieran
As researchers and practitioners in the land sector, we are inspired by the possibility of strengthening women's land rights as a way to empower women socially and economically. One such potential benefit concerns the ways in which land rights may protect women from domestic or gender-based violence – a relevant topic as the global community observes the 16 Days of Activism against Gender-based Violence beginning Friday, Nov. 25.
Multiple studies indicate that secure rights to land and other property can protect women from experiencing domestic violence by strengthening their position within their families or by providing women with a stronger ability to exit abusive relationships. See for example a review conducted by USAID in 2018, summarizing evidence that owning land or housing, primarily in South Asia, can protect women from intimate partner violence (IPV).[1]
Sadly, these promising gains are not always welcomed by family or community members who will go to extraordinary lengths to negate and constrain women's land rights in order to preserve the power they currently enjoy.
Recently women leaders of a land rights network in Latin America reminded us that those who challenge traditional notions about gender and land often have to deal with explicit threats of violence.
One of the leaders told us,
"(Men) say women should not be in the street claiming anything, much less claiming their land rights. They humiliate me, saying I'm not prepared, saying that I'm ridiculous because I do not know the laws well and I do not speak with poise like them."
She told us that her husband is embarrassed by the ridicule and gossiping about her. That he has threatened to hit her in order to keep her at home, and that she fears he will abandon her and leave her with nothing. "This is not right," she said. "We women need to fight for our land." Others in the meeting echoed her concerns. These women leaders were afraid of violence from their partners because they are becoming "unruly."
They discussed the possibility of organizing a way to protect each other, perhaps talking to the police, or creating a system to alert other network members when they are threatened with violence.
Later, during a call with colleagues in Africa, we discussed the findings of an assessment that aimed to identify cases of gender-based violence linked to land certification projects in order to train project staff with clear guidelines to support women against potential GBV. The assessment found that when men heard that to have their lands certified they needed to include their wives' names on the certificate, many did not like it. Some tried to send their wives away. Women reported being threatened with physical violence, being humiliated and being afraid they would be killed if they did not go away.
Lastly, our colleague Shipra Deo's careful study of this issue in the tribal communities in Jharkhand, India, offers an additional window into how women in rural areas are denied their land rights, making patrimonial violence—a type of gender-based violence—an acceptable practice, despite India's constitutional commitment to gender equality. Among the many examples provided by Shipra are descriptions of how gendered social norms and beliefs in black magic and witches are used as tools to disinherit women and preserve land in the hands of male relatives.
Moreover, instead of decreasing with time, the brutalization of women seems to be increasing.[2] As Silvia Federici explains, violence against women is being used to pave the way for land grabs, privatization, and wars.
These findings from Latin America, Africa and India are consistent and not entirely surprising. Efforts to strengthen women's land rights and women's ability to organize and publicly express their demands for more rights, challenge systems of inequality maintained by informal rules (gendered social norms) and those enforcing the rules: families, village leaders, sometimes their churches and religious leaders. Faced with the prospect of losing some of the power they currently enjoy, patriarchal structures, organizations and individuals in power will do what they can, including resorting to gender-based violence, to enforce these gendered social norms. As a result, unless we are careful and deliberate, women who are supposed to "benefit" from land rights projects may, in fact, become victims of gender-based violence.
We take this concern seriously. Gender-based violence, in all its dimensions — physical, sexual, psychological, economic and patrimonial — is a widespread menace affecting women's ability to realize their full potential.
According to the World Health Organization, about 700 million women worldwide have experienced intimate partner violence (IPV) and/or sexual violence during their lifetime. Some 137 women are killed by a family member each day. Almost 4 in 10 murders of women are committed by a male intimate partner.
These high numbers primarily reflect violence perpetrated by a current or former spouse or partner. However, women may also experience GBV from other family members, people in their larger clans or communities, or from the state. This violence can take different forms, including psychological, sexual, physical, and economic or patrimonial violence. The latter is less known and thus more normalized than other forms of violence.
WE CAN ALL CONTRIBUTE TO ENDING THIS VIOLENCE.
For those of us working to strengthen land rights, an important first step is to better understand which power dynamics are likely to be threatened by these interventions. The answer is likely to be context specific. That answer can help those designing and implementing the land rights intervention to consider how the shift of power within families and communities is likely to manifest itself. Who is likely to act or react, and how; which actors and organizations with experience in GBV can support the work; and what mechanisms need to be set in place in order to deliberately prevent GBV from undermining the intended empowering effects of their work?
This requires seeking and integrating expertise from others – those already engaged in preventing and addressing GBV—but also recognizing that changing gendered social norms takes time and requires additional resources.
And, of course, more broadly, we can all help by adding our voice to the movement against GBV. Male champions and allies — both within the development sector and communities — have a key role in expressing solidarity to change perceptions about gender. By adding their voices as champions and role models, men can demonstrate their commitment to a world without patriarchy.
This is why we urge all to stand up, support women, denounce violence, and do not be a bystander.
---
[1] Boudreaux, Karol. 2018. 
Intimate Partner Violence and Land Tenure: What Do We Know and What Can We Do?
 United States Agency for International Development. [2] Silvia Federici (2018) 
Witches, Witch-hunting, and Women.
 PM Press.