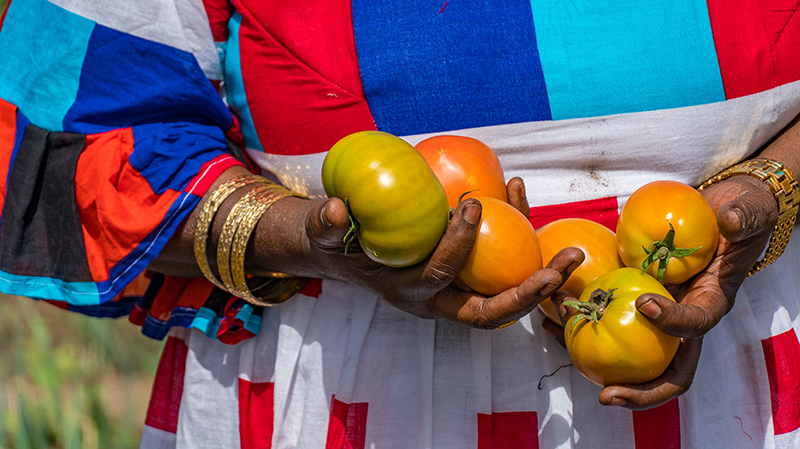 This article was originally published by Skoll.
By Esther Mwaura-Muiru, Global Advocacy Director
Women farmers feed their communities and the world. From the paddy terraces of Asia to the maize fields of sub-Saharan Africa, the woman farmer tills, plants, waters, and harvests crops that provide food security and nutrition for millions.
According to the Food and Agriculture Organization of the United Nations, women comprise 43 percent of the global agricultural workforce. This figure almost certainly underrepresents their actual contributions, due to gendered household roles, the distinction between formal and informal labor and food production, and the way care work is often left out of economic indicators.
In parts of the developing world, women farmers are the majority – rising to 57 percent in sub-Saharan Africa and 60 percent in South Asia.
And yet, less than 15 percent of landholders worldwide are women, preventing millions from unlocking the power and the potential to flourish as farmers.
A cross-cutting solution
This week, as we observe International Rural Women's Day (Oct. 15), World Food Day (Oct. 16), and the International Day for the Eradication of Poverty (Oct. 17), it's crucial to note that land is the foundation for all three.
As an economic asset, land is the cornerstone of rural economies. As a place for growing food, it is indispensable. And as a means for promoting opportunity and gender equity for millions of rural women, it is a waypoint on our journey to save the planet. Moreover, secure land rights for women and girls are fundamental rights that guarantee their identity and heritage.
If we want to improve lives and alleviate poverty, achieve food security globally, and guarantee human rights and full dignity for all, we must invest in land rights for women.
Worldwide, more than 80 percent of people experiencing extreme poverty live in rural areas and rely on agriculture to earn a living, farming small plots of land for subsistence and perhaps a modest income. At least half are women. Equipped with secure land rights, these women have the opportunity and peace of mind to invest in their land to improve their harvests and their lives.
The cumulative benefits of land ownership
The opportunity comes from being recognized as a farmer. In many countries, farmers are defined as those who own land; often the legal terms for land owners are gendered male. Those who are landless – more frequently, women – don't qualify as farmers, and are therefore unable to access farm supports like credit, subsidies, crop insurance, and agriculture extension.
The peace of mind comes from a sense of security — that the land they depend on cannot be taken away. Long-term investments increase the productivity, value, and desirability of land. Investments – in irrigation, better seeds, and practices like agroforestry and crop rotation – boost productivity and promote sustainable farming practices, sowing seeds for climate resilience and a food secure future, for rural women and for the world.
Perceptions also change – women with secure land rights often report having a greater say in household decision-making on things like spending and land use, as well as a stronger voice in community discussions around land management.
Greater dignity, a stronger sense of self – and higher income can follow, as well. Women with secure rights to land have higher incomes and are more likely to have individual savings. Women are also more inclined to invest their wealth in household needs, like nutrition, healthcare, and school fees, and in improvements to their land and farms. In short, when women have secure rights to land, everyone around them also benefits.
But despite the ripple effect for women, their families, and communities, women still face persistent social and legal barriers to their rights to land. Discriminatory social norms and practices, limited access to justice, fractured voice and agency, and a lack of legal awareness compound to leave millions of women without secure land rights, even when those rights are protected by law.
A growing movement
The good news is, there's a growing movement to close this gap between law and practice and help millions of women realize land rights in their daily lives.
The Stand for Her Land campaign (S4HL) is working at the global and grassroots levels to increase awareness, generate resources, build capacity, and change mindsets about the relationship between women and land. With coalitions in six countries across sub-Saharan Africa, South Asia, and Latin America, S4HL is truly a global campaign, with impact felt in the everyday lives of women and girls.
In Uganda and Senegal, lead S4HL partners Uganda Community Based Association for Women and Children's Welfare and Pan-African Institute for Citizenship, Consumers and Development in partnership with National Land Coalition members are building awareness of the crosscutting nature of women's land rights with pressing development priorities. In Bangladesh, coalition lead Association for Land Reform and Development (ALRD) is conducting land literacy trainings and activating male champions for women's land rights to promote social change.
At the global level, the campaign participates in regional and global convenings, such as the upcoming UN climate change conference (COP27) and African Union convenings, to put women's land rights on the agenda for policymakers, donors, and other stakeholders.
With momentum on our side, we can realize women's equal rights to land in our lifetime.