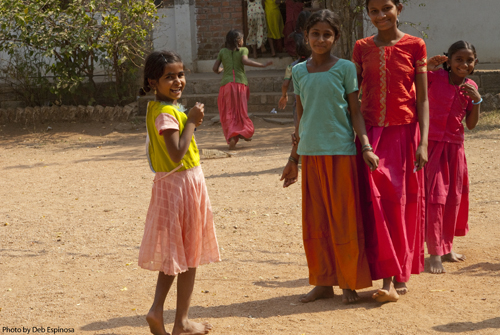 by Beth Roberts
I'll never forget the day one of my students in Bangladesh told me she had to drop out of school.  She was in tears as she told me that her father had married her off to a man twice her age.  At 19, she had no power to determine her future, and she was devastated.  I was 21 at the time, and it struck me that no one, least of all my father, would force me to get married or interfere with my education.
That contrast — between the injustice in her life and the opportunity in mine — turned me into an advocate for women and girls.  The more I learned about gender-based violence in all its forms, the more driven I became to answer the question of what interventions were most effective in empowering women and girls.
Today is the International Day for the Elimination of Violence Against Women.  The United Nations' definition goes beyond physical and sexual violence to include any act that causes psychological suffering to women or deprives them of liberty; this would include forced marriage and arguably being forced to quit school. Today is also the day advocates for the rights of women and girls around the world kick off the "16 Days of Activism Against Gender-Based Violence Campaign," and UN Women is urging all of us to "orange the world" to raise global awareness about violence against women and girls. Today is a day for global action to see all women realize their human rights and pursue their full potential without fear of violence.
This year's theme is "From Peace in the Home to Peace in the World: Make Education Safe for All."   Access to education empowers women, helping them avoid other forms of discrimination, including child marriage, intimate partner violence, and a lack of control over household resources.
For millions of the women and girls who live on approximately 1 US dollar a day in rural areas of the world, educational and economic opportunity can be increased via a simple solution: rights to the land that they live on.
When women have secure land rights, they have opportunity to invest in their land, allowing them to increase their income, which in turn can increase their status and in some contexts decrease their exposure to domestic violence.  If they have children, their extra income can help send them to school. This can spark a cycle of benefits.
At Landesa, we work to secure land rights for the rural poor, who make up 75% of the world's poorest women and men.
In September 2015, the UN adopted the Sustainable Development Goals (SDGs), which recognized the key role women's land rights play in women's economic and social empowerment. The SDGs, which will shape the global development agenda for the next 15 years, include the goal of gender equality, defined to require both "eliminat[ing] all forms of violence against all women and girls" and "giving women equal rights to economic resources, as well as access to ownership and control over land."
Today, I take this as a charge to help address the overlapping challenges of gender-based violence and women's equal access to resources.
"It is imperative that for gender-based violence to end, we work to end all forms of discrimination," says Krishanti Dharmaraj, global coordinator of the 16 Days Campaign.
This imperative applies from the ground up, from the land people live on to the horizons of their lives.
From the day of that encounter with my student, my own path of activism has led me to make Landesa's approach to empowering women and girls my own. Again and again, women's land rights surface as an answer to the question of how we can end poverty, increase food security, prevent early marriage, improve health outcomes, and change social norms that hinder women from gaining equal status.
Today, I stand with a host of like-minded people to end violence against women. Let's "orange the world" and create a brighter future for everyone.