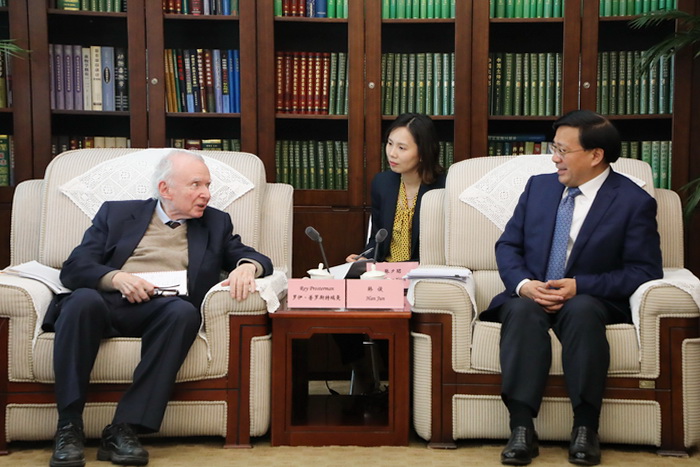 Landesa founder Roy Prosterman discusses rural land reform with Chinese deputy minister of agriculture
During a visit to Beijing on April 23, Landesa founder Roy Prosterman met with Jun Han, Deputy Minister of China's Ministry of Agriculture and Rural Affairs, to discuss ongoing efforts to strengthen the land rights of millions of farmers. The meeting follows landmark reforms in China late last year that helped strengthen the land rights of 240 million rural households. During the meeting, Minister Han noted that the government is currently reviewing China's Land Management Law, which includes policies related to land appropriations, and is considering a future review of rural residential land laws.
Farmers Daily, a Chinese newspaper concerned with agricultural news, reported on the meeting. A translation follows:
Deputy Minister Jun Han met with Professor Roy Prosterman, founder and emeritus chairman of Rural Development Institute [Landesa] on April 23rd, 2019. They held discussion and changed opinions regarding the land tenure system in China and the ongoing amendment of the Land Management Law.
Minister Han states that land reforms in China has made great progress since the 18th National Congress of the Chinese Communist Party. The registration and certification of rural contracting land is near completion, and the contracting term is set to be extended for another 30 years upon expiry of the second round of land contracting.  Furthermore, the Rural Land Contracting Law has been amended and the draft amendment to the Land Management Law is under review. Minister Han applauded Landesa for the studies it has carried out on land reforms in China for decades and the many valuable recommendations Landesa made to the government. The two parties can continue to collaborate in areas including reforms of rural residential land.
Professor Prosterman expressed that Landesa has worked closely with departments and institutions studying agricultural and land issues in China in the past three decades, and is greatly impressed by the success China accomplished in poverty alleviation. Landesa is very happy to further support the Ministry of Agriculture and Rural Work on the studies of various land tenure issues.