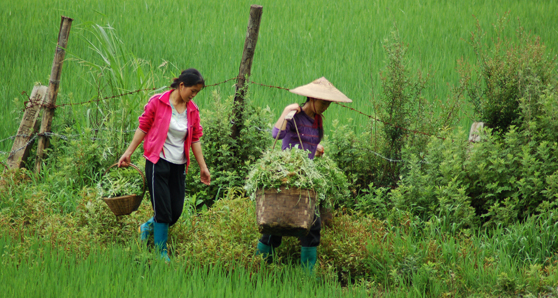 In the most significant reforms to Chinese land laws in more than 15 years, the Chinese government adopted several new amendments to its 2002 Rural Land Contracting Law (RLCL) late last year that will help strengthen the land rights of 240 million Chinese farm households.
The amended RLCL includes key provisions that protect and strengthen women's land rights, and responds positively to shifting demographic trends as China's farming communities undergo rapid urbanization.
Landesa closely monitored the debate over the amending process when it was announced by the Chinese central government in 2014. Landesa's team of legal experts, with support from the RS Group, offered policy recommendations to government officials during multiple rounds of the legislative review process, and succeeded in seeing several critical amendments to the RLCL signed into law in December.
The new law strengthens and reaffirms the rights of rural households to use, manage, and leverage their land in four important ways.
For the first time, women's names will be registered on land certificates. Previously, only the identified head of household (typically a male) was listed on a household's land certificate. The change will reinforce women's rights to land within households, creating an avenue for social empowerment and a stronger voice in decision-making.
Likewise, the amended law clarifies that both male and female household members enjoy equal rights to the household's land. In China, where it is customary for a newlywed woman to move into her husband's village, women are often at risk of being denied their rightful share of land in their new household. The equal rights amendment guarantees women an equal share of their household land, and ensures they will retain those rights in the event of divorce.
A third change, critically important in the context of the rapid urbanization underway in China, repeals the 2002 RLCL provision that required farmers to forfeit their land rights if all members of the household moved to an urban setting. The previous law treated farmers' rights as something less than property rights because farmers would lose those rights when they changed residential status from rural to urban.  Under the new law, urbanized farmers are able to preserve their land rights no matter where they live, or are free to transfer rights  in order to fund their urban endeavors.  With China rapidly urbanizing, this new legal change ensures that the 200 million Chinese farmers now living in cities, and any who are considering a move to an urban area in the future, can do so without fear of losing their land rights.
A fourth change is actually not a change at all, but a win for households:  the RLCL amendment contains language that reaffirms existing legal restrictions of land readjustment – the practice of redistributing land allocations among households as village demographics change – despite repeated attempts to relax such restrictions in the drafting process. Land readjustment has historically contributed to land tenure insecurity among Chinese farm households, and China's reaffirmed rejection of readjustment under the new law is a boon for farmers.
Combined, these three changes – and one reaffirmation –  will strengthen the land rights of 240 million Chinese rural households, and together represent the most significant land policy reform in China since the adoption of the RLCL in 2002.
Learn more about Landesa's work in China.