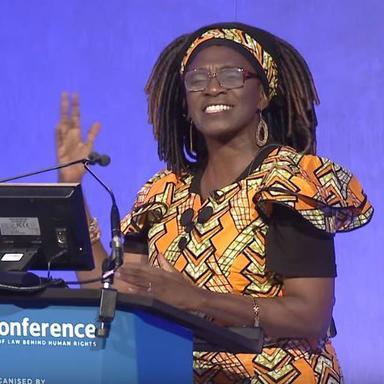 Dr. Monica Mhoja, Landesa's Tanzania Program Director, has been awarded a Bertha Foundation Fellowship to investigate the nexus between property, profit and politics contributing to land and housing injustice, amplify her findings to a wider targeted audience, and connect with diverse stakeholders for information, support and sustainable impact. This Fellowship offers the opportunity to engage not only with the complexity of the issue of land, ownership and power but also strengthen relationships between activists and investigative journalists grappling with the same topic. Bertha Fellows will be expected to explore new methodologies for working collaboratively and outside their traditional silos while maintaining their integrity and autonomy.
Dr. Mhoja has more than 25 years of experience leading women's and children's rights programs. She has led national, regional and international programs on advocacy, legal and human rights awareness on land rights, inheritance rights, the impact of child marriage and gender-based violence using collaborative and human rights-based approaches.
Significantly, Monica was UNIFEM's contact person in Tanzania in the 1990s. In 1998, she initiated and was the first coordinator of the United Nations' Convention on the Elimination of all forms of Discrimination against Women (CEDAW) Task Force, comprised of 37 NGOs. She is the first chairperson of Women in Law and Development in Africa –Tanzania, founder of the Children's Dignity Forum and, in 2007, initiated Tanzania's first national forum to end child marriage. She is also the founder of the Women's Legal Aid Center (WLAC) and also facilitated the establishment of 18 paralegal centers to provide legal aid services to poor women and children. She is a 2003 recipient of the American Bar Association's International Human Rights Award for significant contribution to human rights, rule of law and access to justice.
The Bertha Foundation supports activists, storytellers and lawyers working to bring about social and economic justice and human rights for all.
Read the Fellows announcement here.